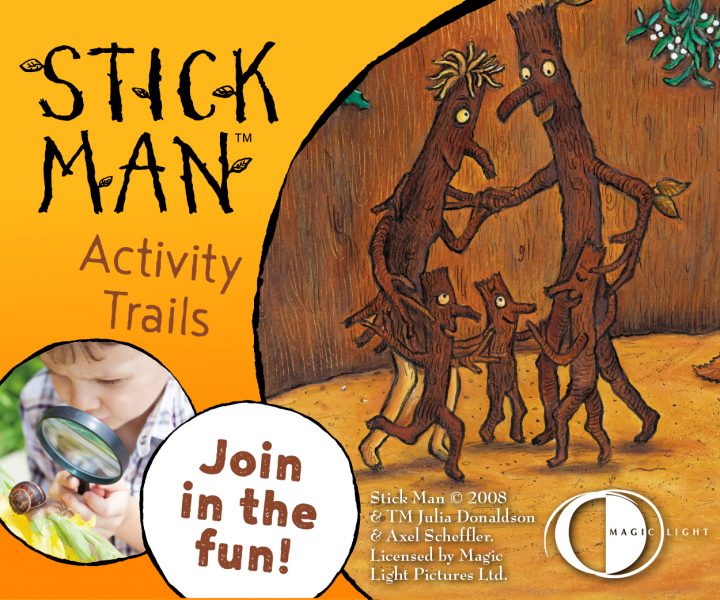 We're branching out! Come down and visit our fun-filled activity trail featuring popular picture book character Stick Man, which is at Martineau Gardens from August 2018 until the end of December 2019.
The self-guided trail is open year-round and is aimed at encouraging children aged 3-7 to get outdoors and explore the natural world and find out how things grow. If you want to 'twig' how much fun the trail can be, then visit us during Monday to Saturday 10am – 4pm (except Bank holidays and special events).
We are one of a very select group of city farms, community gardens and care farms in the UK that have been chosen to host a Stick Man trail, which have been created by Social Farms & Gardens, a charity that uses land-based activities to improve people's lives and the places where they live. Find out more about Social Farms & Gardens via www.farmgarden.org.uk
The Stick Man trail (installed thanks to the support of Magic Light Pictures) is based on the much-loved Stick Man picture book written by Julia Donaldson and illustrated by Axel Scheffler.
Feedback from our visitors:
"A lovely event for the family. Great to introduce children to how much fun nature can be! Good for a wide variety of children's ages too."
Martineau Gardens is a beautiful community garden, set in 2.5 acres of organically managed land, just 2 miles from birmingham city centre – to plan your visit and see what facilities we have, click here.
*Make a Stick Man pack – not available yet, but coming soon!
Martineau Gardens is open Monday to Saturday 10am until 4pm, it is free to enter, unless there is a special event on – please check our What's On page and News page for special announcements. On International Cricket days, the car park is not available and Edgbaston becomes very busy, we would suggest visiting another day.
Stick Man – Special Activities – Forthcoming Dates:
Whilst participation in the Stick Man trail is free, we also run occasional Special Activities, these are sesions for which you need to purchase a ticket in advance. Our next family sessions are called Festive Stick Man and take place on Saturday 15 December (sold out) and Thursday 20 December. Click here for more details.
Support Martineau Gardens
Entry to Martineau Gardens is free (except for Special Events and Courses) – we welcome donations. There will be an opportunity to donate at the Stick Man Trail welcome point – to find out more about Martineau Gardens and our mission, click here.
Sign-up to receive news and events email bulletins:
If you like what we do, keep up to date with the latest news and events/courses details.