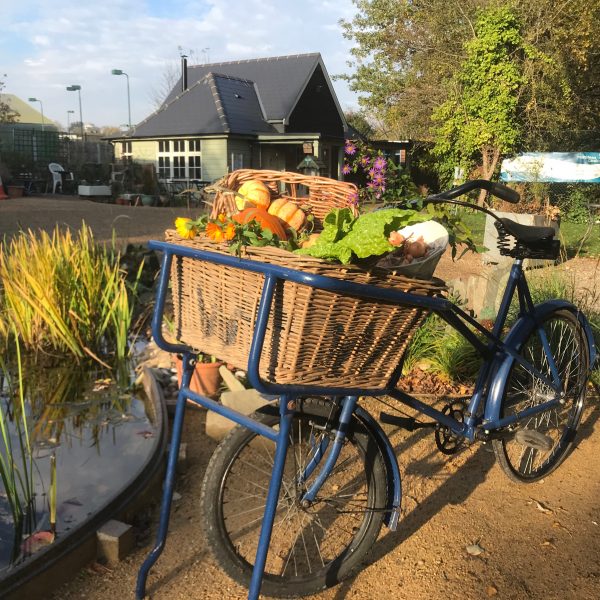 If you're looking for an outing on wheels, why not cycle to Martineau Gardens? Thanks to Birmingham's new blue A38 cycle route linking Selly Oak and the University of Birmingham to the city centre, bike access just got much easier.
The A38 blue-surfaced cycle route provides four kilometres of traffic free 2-way route. As illustrated below, Martineau Gardens is just a two minutes cycle from the blue-route.
This handy map (credit: Birmingham Cycle Revolution) is an extract from the A38 Cycle Route, in this illustration, Martineau Gardens is circled in yellow. Click here to see the full A38 Cycle Route Map.
Ideas:
Just 2 minutes away, the A38 cycle route linking Martineau Gardens with University and Selly Oak to Birmingham city centre
Approximately a 7-minute cycle is the Rea Valley traffic-free route linking you to Stirchley, Kings Heath and more. Access to the River Rea route can be reached via an off road route (slightly longer), use the toucan crossing on Pershore Rd at Pebble Mill Rd, and then a shared route on Pebble Mill Rd up to it's junction with Bristol Rd where cyclists can join the blue route. Later this year, work will start on an extension of the cycle route from the Bristol Rd/Priory Rd junction down to Edgbaston Stadium where it will then cross Edgbaston Rd to Cannon Hill Park (blue dotted line on the map) and the existing Rea Valley Route (NCN route 5)
Approximately 10-minute steep cycle (on roads) is the Worcester and Birmingham Canal, you could cycle from Gas Street along the canal tow paths, until The Vale and cycle through the Vale onto Church Road with a steep climb up Church Road then Priory Road. (20 second video clip with images below)
To access an off-road (shared footway) route: stay on until the university access from the canal, there is a shared footway route that takes you from the station down towards Bristol Rd onto the Selly Oak bypass which joins to the start of the new blue route. Another alternative is to get off at the university access from the canal and cycle through the university to pick up the blue route at the south gate access to the university opposite Bournbrook Rd.
Advice: If cycling with young children, or inexperienced cyclists, the latter two ideas will be challenging and so longer, off-road options included in the descriptions above.
Covered Bike Shelter
At Martineau Gardens, we have a covered bike shelter (funded by Birmingham Cycle Revolution) so you can lock your bicycle securely and keep it dry.
Group Visits by bike:
Since Martineau Gardens is just two and a half-acres, we would appreciate advance notice if you are bringing a group of more than 8 people to the Gardens. Please call us on 0121 440 7430 so we can help you plan the best day for your visit. (Group cycle rides – please pre-book your visit.)
Visiting Martineau Gardens:
Entrance to Gardens is free, and whilst we don't have a cafe, our volunteers will make you hot or cold organic, fair-trade drinks. Donations are welcomed since we rely on the generosity of our visitors and support of our donors and charitable trusts to keep Martineau Gardens open and free to visit. You can find out more about our beautiful community garden, the therapeutic horticulture programme and our cause here.