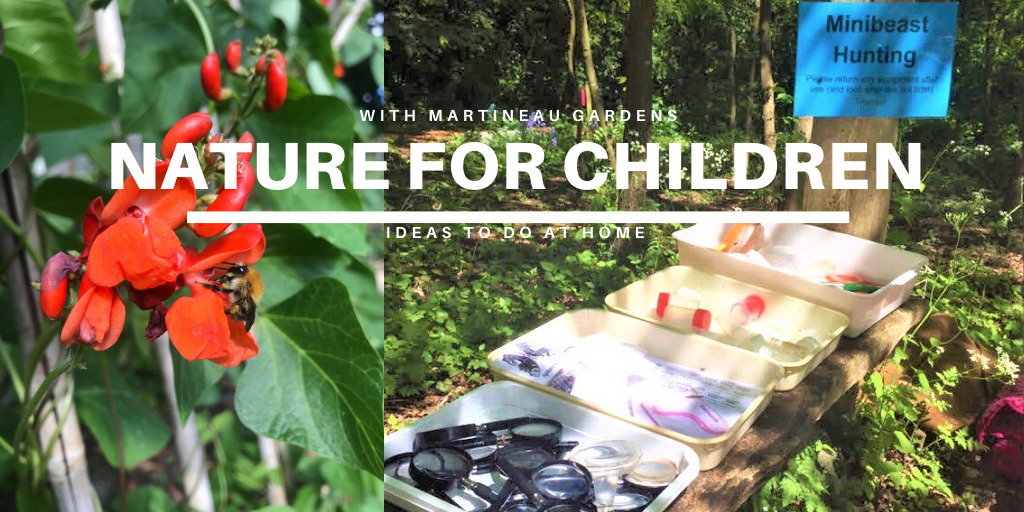 As we navigate our lives through the new 'normal', the world can seem a bewildering place, especially for children. The wonder of the natural world and the consistency that it presents, is enormously beneficial. No matter what is going on, seeds still germinate, bees keep foraging and tadpoles still turn into frogs. At Martineau Gardens, we have a range of online resources to spark your adventures in the natural world, and we look forward to the time when we can welcome you back to the Gardens in person:
Commissioned by Healthy Brum, these films will inspire you and your little ones to get active and engage with the nature on your doorstep. Our very own Juliette Green (Education Officer) is the presenter for each episode .
Safaris in – Minibeast, Plant, Nature Art and Scavenger Hunt Click here
Stick Man Crafts for World Book Day 2021
Watch this 2 minute video aimed at parents/carers and teachers for pre-school and primary age, presnted by Juliette Green, Martineau Gardens.
Make Dragonfly wings with natural materials
Juliette Green – Martineau Gardens' Environmental Education Teacher – presents a dragonfly craft activity from her garden.
Pirate Joolz Voyages around Martineau Island
Grab your quill and parchment to write down the clues as Pirate Joolz takes you on a treasure hunt around Martineau Gardens. Aimed at younger children, learn fun facts about the natural world and how to make your own pirate boat, that floats, out of completely natural materials.
Dragonflies at Martineau Gardens
A video recorded by Martineau Gardens' Education Teacher, Juliette Green, during National Dragonfly Week, July 2020.
Inside the Hive – bees at Martineau Gardens
Martineau Gardens' Environmental Education Teacher Juliette takes a tour of one of the beehives with beekeeper Sam.
Medieval Adventure
Join our Environmental Education Teacher Juliette as she goes on a dragon hunt round Martineau Gardens and shows you how to make your own sword and shield.
Martineau Alphabet
Have a look at the pictures we found for each letter of MARTINEAU GARDENS. There are some captions missing, so have a pen and paper handy to see if you can write them down. Why not have a go at creating your own alphabet for Martineau Gardens, a nature word or even your own name?
Tree Tour of Martineau Gardens
Do you struggle to identify trees in leaf? This video is full of information and tips to help you. This summer walk, narrated by our Education Officer, was filmed at Martineau Gardens – there's plenty to discover along the way.
Spot the Dinosaurs
In this short video, aimed at younger viewers, Juliette found some prehistoric creatures hiding in the Courtyard Garden! Can you spot them too?
Minibeast Safari
Our Environmental Education Teacher Juliette, aided by our beekeeper Sam, went for a walk to see the many different invertebrates that call Martineau Gardens home. Children joined in by creating and completing their own 'Bug Bingo' sheets (Filmed live, 24 April 2020)
Pond Dip
At the very start of Lockdown our Environmental Education Teacher, Juliette Green, filmed a live online pond dip. Take a look at what she found! (17 April 2020)