Douglas Allenby designed the hard landscaping for the Courtyard Garden.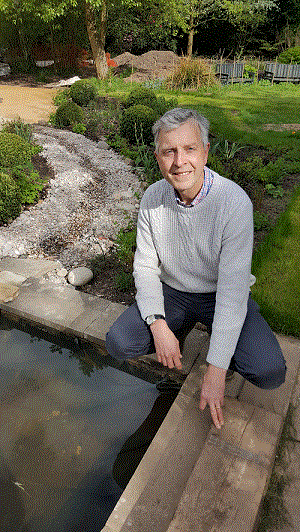 When did you first encounter Martineau Gardens? I came across it back in the 1980s when I was a student at Birmingham University studying Geography and loving anything and everything outdoors. I also remember the amazing post-Medieval ridge and furrow field pattern just to the north of the Gardens on what was the former Edgbaston Hockey Club land but is now part of the extended Priory Tennis Club. I also used to run / stagger past the Gardens and up the long Priory Road hill on a regular basis when I trained for a half marathon!
What is the appeal of Martineau Gardens for you? As part of my landscape architecture training I visited the site to see how you reached out to and involved the local community in a wide variety of imaginative ways and as someone who is married to a therapeutic counsellor we were both interested to learn how you used the staff, environment, and crafts/activities to engender a sense of peace and healing to those who might be struggling. I love the fact that this centre is located right in the heart of the city within easy reach of so many people; it is a glorious green oasis. The staff are committed, knowledgeable, caring, friendly, and keen to reach out to the local community as well as bring them on board. It can be a fun learning experience for people of all ages and abilities. You can definitely get a 'quart into a pint pot'- the site may not have a slick visual appearance but it is a deceptively complex series of spaces and habitats that have been cleverly and beautifully laid out on a small, linear plot of land.
How have you been involved with the Courtyard Garden Project? The scale and scope of the work involved? When Caroline approached me to design the courtyard garden, I was really excited as it seemed such a perfect fit for both organisations – the Gardens because it would entail the creation of some stunning scented external spaces, and Jo Malone London because the new gardens would look and be used in ways that match their ethos. Due to the age, years of constant usage, and anticipated increases in future user numbers the Pavilion and some of the surrounding landscaped areas within the central core of the Gardens were looking tired and in need of either replacement or repair. The complete refurbishment of the Pavilion means that it will be a major new draw to the site. Consequently, the surrounding courtyard area also needed a similar sensitively designed facelift to make it fit for C21st Key elements will include :-
*A new grass events area that can if necessary accommodate a marquee.
*An improved access drive, turning area, and delivery parking facility close to main offices.
*Greatly enhanced pedestrian and disability access provision both to the courtyard area as a whole as well as specifically to the ramped hot house and large greenhouse.
*A natural stone scree garden that replaces an aged formal raised alpine garden display.
*The replacement of a tired looking, rectangular pond and a stunning new water display that combines a smaller formal upper fish pond, via a stone rill, and a larger, more sinuous wildlife pond.
*Improved drainage to paths and planting beds to extend the visitor season and ensure that the soft landscape elements survive in the long term.
*Hard landscape features such as attractive timber archways at key locations within the garden area (complete with power and lighting supplies for garden day and evening events), new planters and containers, as well as botanical signage to help visitors learn / remember their 'favourite' species.
*The whole courtyard scheme will then be complimented by, and visually united with a scented planting scheme that has been devised by Emma Coleman. It will provide all year round interest both in terms of colour and texture, which in their turn will enhance those used in the hard landscape elements and surfaces.
What will bring to the space, and the people who volunteer and visit the gardens? I hope that it will help to breathe fresh life into the core part of the site; the new dynamic and practical spaces / features should give more enjoyment to a greater number of visitors without it feeling 'too crowded'; the new features will tie in seamlessly with and help to improve the wider garden areas; and finally that everyone will be able to enjoy the scheme using all of their senses, whether stopping to relax or actively participating in a gardening task, training, or craft.
Has therapeutic horticulture this influenced your design? Nature and horticulture when combined with skilled and caring people can be extremely beneficial and healing to those who may be suffering from stress, or have physical or mental health issues. We have tried to create a range of accessible spaces with different characters (in terms of their size, layout, planting, textures, and surfacing) so that everyone should be able to find a 'safe' space for their own particular needs. It might be simply enjoying the fish swimming lazily in the top pond, the sound of the water gently tumbling down the rill, the sun glinting off the ripples in the bottom pond, the scent of the planting bringing back fond memories, or the soft touch of flower or leaf. By making the site an attractive setting where they can take part and learn about horticulture and wildlife conservation it will hopefully encourage visitors and volunteers to come back time and time again to enjoy the seasonal changes, take active exercise, and socialize in a friendly accepting environment.
What does coming to the gardens mean to you? That has a two-fold answer! Professionally, I am trying my best to ensure that the approved design is implemented correctly to a high standard that will not only look good at the official opening this summer but will stand the test of time. Personally, I love to see how the site changes through the year as well as the infectious enthusiasm and creativity that emanates from all the staff and volunteers that I meet.
What's your favourite area within the Gardens? There are so many. I love the fruit and vegetable growing areas – hard work, fun, and skills can result in a rich harvest; exploring the site and stumbling across a surprising new view / quiet corner / plant that you had not noticed before; the play features as they inspire my 'child' imagination; and going inside the 'exotic' hot house.
I have really enjoyed the positive can-do attitude of the Garden staff, design team members, and contractors who have all collaborated well together to bring this Jo Malone London scheme to completion despite a limited budget and at times awful weather conditions.
June 2018