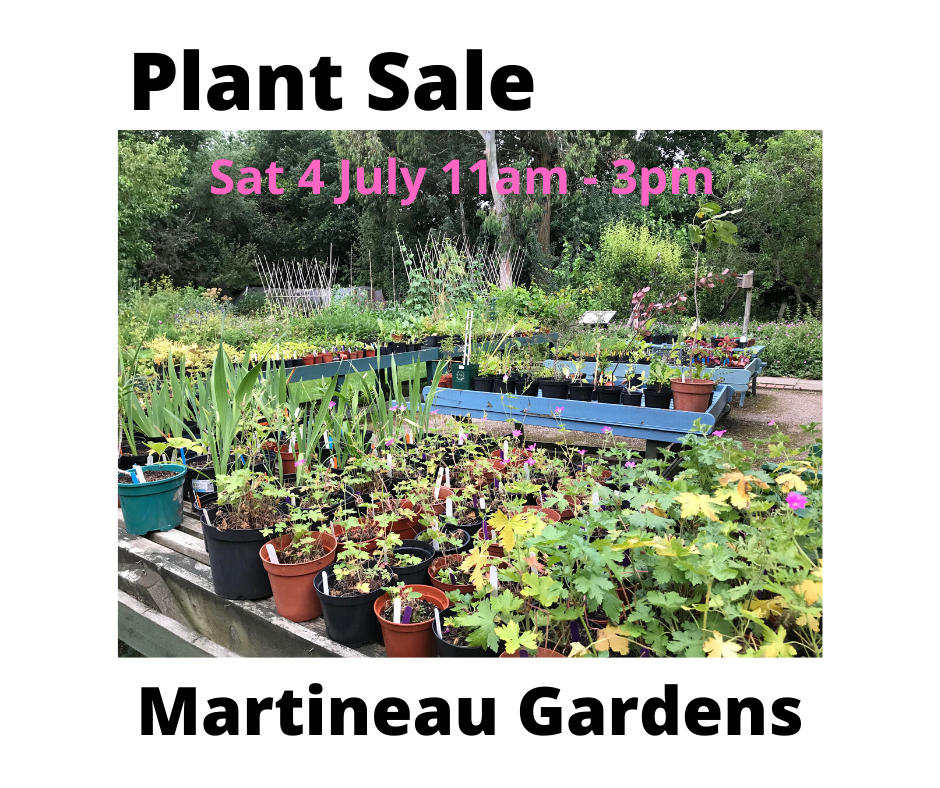 Saturday 4 July, 11am until 3pm – admission free *
Martineau Gardens, 27 Priory Road, Edgbaston B5 7UG
We love sharing Martineau Gardens and the joy of gardening with our visitors. Until we are able to open our gates again in full, we hope you will enjoy this one-off opportunity to purchase a little bit of Martineau Gardens. Something to take home for your windowsill, front step or garden and to remind you of us.
At the Plant Sale, you'll be able to purchase plants and compost (limited supplies) but, with regret, there will be no access to the gardens, toilets or picnic/play areas. There will be no refreshments. *Social distancing measures will be observed (full details below).
What's for sale?
The plants available include a variety of perennials and annuals grown by the Martineau Gardens volunteers including herbs, scented geraniums, irises, strawberry plants, and so much more.
Multi-purpose peat-free compost is available, though limited to two bags per household. Pay at sales point in exchange for a voucher, and a volunteer will be on hand to exchange the voucher for the compost.
What to expect:
We strongly advise you to read the following before visiting the Plant Sale
In order to keep you, our visitors, and our staff and volunteers safe during the Plant Sale now that government guidelines relating to Covid-19 are relaxing, please read the following:
Arrival at the Plant Sale:
On arrival in the car park, if there is a queue, pedestrians should please join the queue at the head of the access lane, observing the 2m social distancing guidance. If arriving by car, please park and join the queue/ remain in your car if there is a queue.
If the car park is full the gate will be closed. Please try again later. Parking is only available within the Martineau Gardens car park.
There will be a one way pedestrian system in and out of the Plant Sale (entrance via the track and Tai Chi Lawn, exit via the Welcome Shelter). Two people per household only beyond the Welcome Shelter with max of four people (two households) in the Plant Sales are at any time.
During your time at the Plant Sale, please observe social distancing of 2m with staff and other customers and observe the directional signage for the one way system. If the additional person with you is a child, please keep them close to you and supervised.
Please only pick up plants you will be purchasing.
Please bring your own bags or boxes to put your purchases in.
We anticipate 20 – 30 minutes for each visit
Please note there will be no toilet facility available.
If you, or anyone in your household is displaying Covid-19 like symptoms, please do not visit the Plant Sale.
Advice for those with limited mobility:
Parts of the one way route may be challenging for wheelchairs since the route passes over grass (the Tai Chi Lawn) and gravel (the track). If this poses a concern for you, please contact the office on 0121 440 7430.
Payments:
We prefer card sales, but can accept cash.
Donations:
If you would like to add a donation to your purchase we will be most thankful.
Please remember that the toilets, picnic and play areas, buildings and wider areas of the gardens remain closed during the Plant Sale.
Martineau Gardens during Lockdown
Your purchases will help to support the Gardens during this difficult time. If you'd like to know what's been going at Martineau Gardens during Lockdown, please keep an eye on our website, follow us on social media or sign-up to receive our email bulletins here.
Martineau Gardens remains closed to the public, the plant sale is a one-off fundraising activity.
For the latest information, please view our Covid-19 statement here
27 Priory Road, Edgbaston, Birmingham, West Midlands, B5 7UG
Located opposite the Priory Hospital, and 5 minutes from the Midlands Arts Centre (the MAC) and Warwickshire County Cricket Ground