Martineau Gardens is delighted to announce that on Tuesday 2 June 2020, we have been awarded the Queen's Award for Voluntary Service.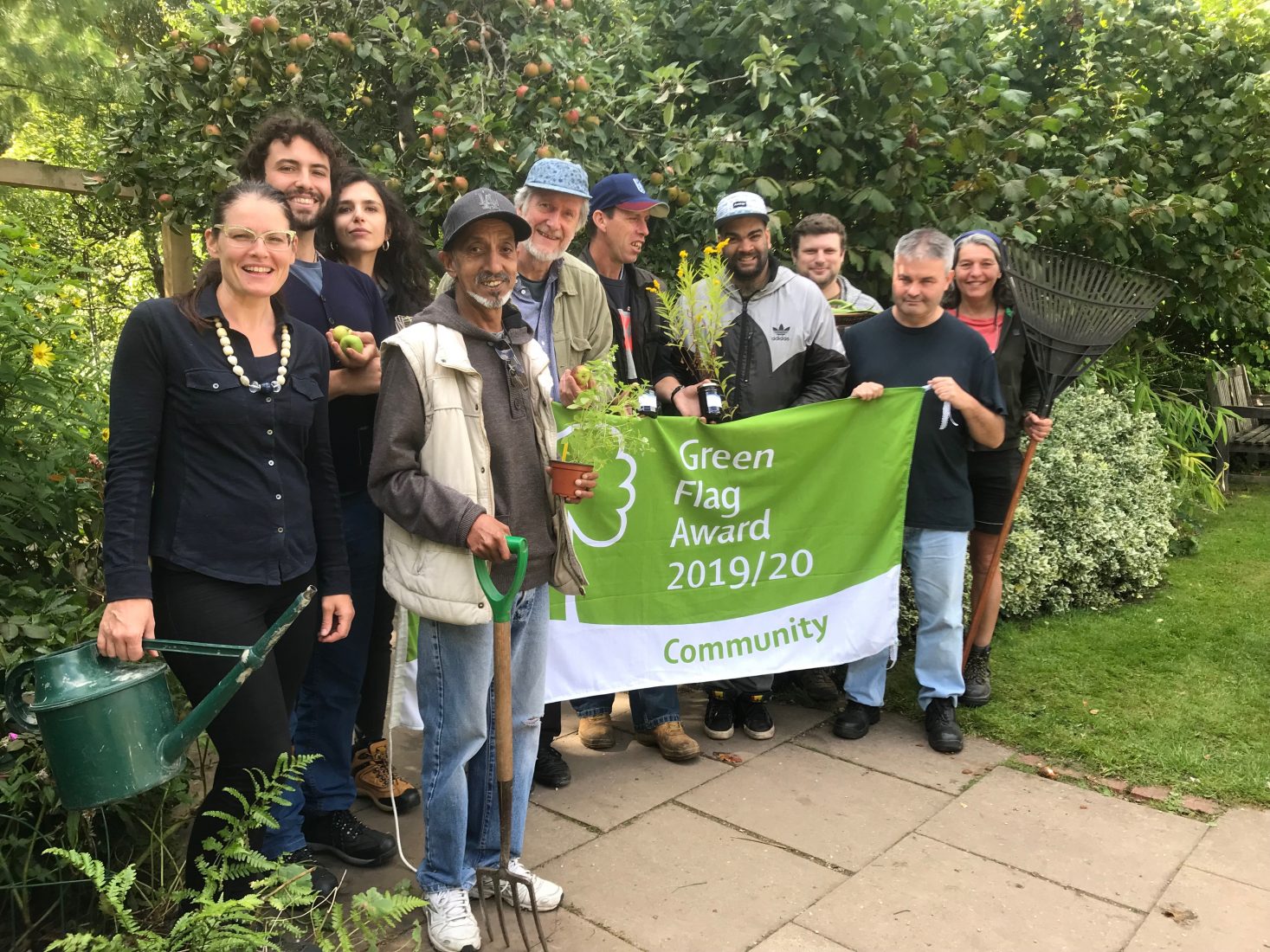 Watch our celebratory slide show here:
(2 minutes of glorious Martineau Gardens' memories for you)
You can read the full story here, in our media release.
Media Release:
Local charity Martineau Gardens, based in Edgbaston, has been honoured with the Queen's Award for Voluntary Service, the highest award a voluntary group can receive in the UK.
Established in 1997 as a volunteer-led organisation, Martineau Gardens became a registered charity in 2001 with a volunteer board of trustees. The organisation now supports volunteers on the therapeutic horticulture programme to look after the 2.5 acre free-to-enter community garden.
A team of volunteers welcome over 10,000 visitors each year and a further team helps out with open days and events. Martineau Gardens has been described by visitors as 'an oasis of calm in the bustling city' and as 'Birmingham's hidden gem' – all thanks to the dedication of the wonderful volunteers.
Martineau Gardens is one of 230 charities, social enterprises and voluntary groups to receive the prestigious award this year. The number of nominations remains high year on year, showing that the voluntary sector is thriving and full of innovative ideas to make life better for those around them.
The Queen's Award for Voluntary Service aims to recognise outstanding work by volunteer groups to benefit their local communities. It was created in 2002 to celebrate the Queen's Golden Jubilee.
Recipients are announced each year on 2nd June, the anniversary of the Queen's Coronation. Award winners this year are wonderfully diverse. They include volunteer groups from across the UK, including a community shop in Cornwall, an environmental group in Swansea, a group working with refugees and vulnerable people in Stirling and a thriving community arts centre in County Down.
Representatives of Martineau Gardens will receive the award from John Crabtree, OBE, Lord Lieutenant of the West Midlands later this summer. Furthermore two volunteers from Martineau Gardens will attend a garden party at Buckingham Palace in May 2021, along with other recipients of this year's Award.
Sue Roberts, Chair of Trustees says: "We are delighted and honoured to receive the Queens Award for Voluntary Service. Volunteers are the beating heart of Martineau Gardens. Whether supporting our work week in week out, or rising to the challenge when needed, each one makes a difference. The Award is testament to hundreds of volunteers past and present, who have given selflessly to care for our beautiful community space. We look forward to being able to have everyone back at the Gardens for a well-deserved celebration."
Martineau Gardens is currently closed due to COVID -19. During normal times of operation, Martineau Gardens is open to the public to visit, free entry, Monday to Saturday 10am until 4pm except Bank Holidays. In addition to the Therapeutic Horticulture volunteer project and the Education service, the Gardens host events and courses, provide venue hire and sell plants and produce.
The Queen's Award Voluntary for Service
1. Lord Lieutenants represent the monarch in each of the UK's ceremonial counties.
2. This year there were 230 recipients of The Queen's Award Voluntary Service from across the UK. More information on the recipients and the Award can be found here
3. Any group of two or more people that has participated in voluntary work for more than three years can be nominated for the award. Full details on how to nominate are available here
4. Nominations for the 2021 awards close on 25 September 2020.