---
---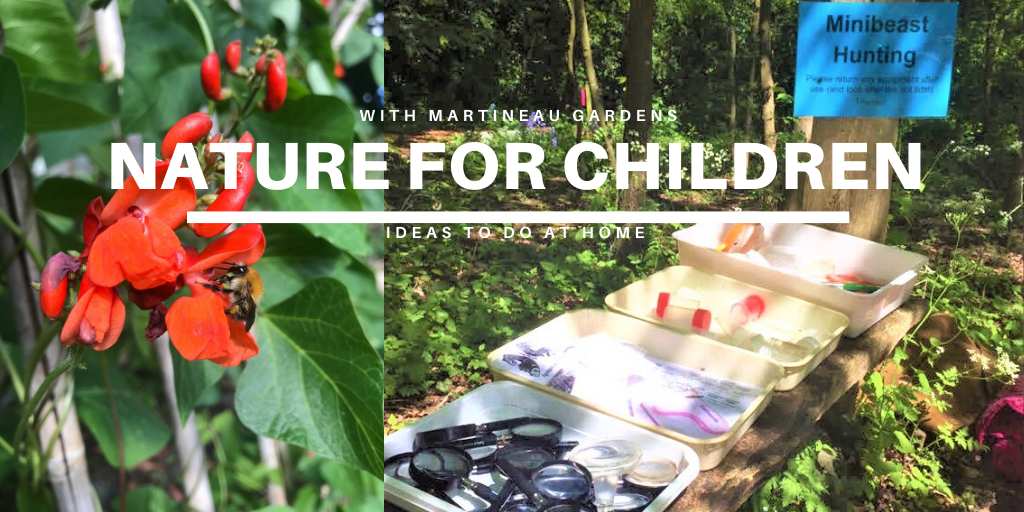 The pandemic has forced us all to look at new ways to stay connected with each other, but has also seen so many of us connecting with nature more frequently. Martineau Gardens' Environmental Education Officer Juliette Green created a series of on-line events for children and their families to bring a bit of a sparkle to their daily exercise by encouraging them to look deeper at the nature around them. Over five weeks, Juliette filmed various locations around Martineau Gardens and broadcast her videos live which can be viewed on-line.
There's a range of themes to enjoy, including a pond-dip, a minibeast hunt, a tree tour, a dinosaur hunt and, with Sam Walker (our volunteer beekeeper) a close up investigation of one of our beehives. Not just for children, these films are very informative and will further knowledge of the natural world around us. Here's a sample of two of the films, with more to follow soon.
Inside the Hive – bees at Martineau Gardens
Juliette and Sam find out what's buzzing inside the hives.
Tree Tour of Martineau Gardens
Do you struggle to identify trees in leaf? This video of a summer walk , narrated by Juliette video is full of information and tips to help you!
This is just the beginning! More videos and activities are planned – to see the latest releases, sign up to our e-newsletter here or follow us on facebook or twitter.
---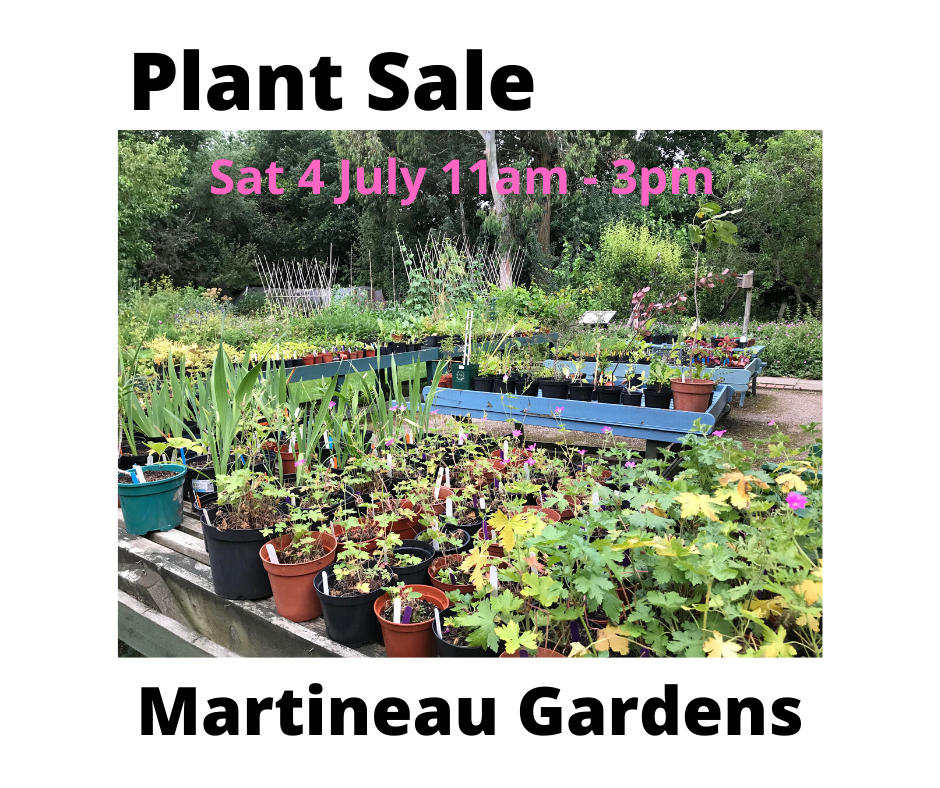 Saturday 4 July, 11am until 3pm – admission free *
Martineau Gardens, 27 Priory Road, Edgbaston B5 7UG
We love sharing Martineau Gardens and the joy of gardening with our visitors. Until we are able to open our gates again in full, we hope you will enjoy this one-off opportunity to purchase a little bit of Martineau Gardens. Something to take home for your windowsill, front step or garden and to remind you of us.
At the Plant Sale, you'll be able to purchase plants and compost (limited supplies) but, with regret, there will be no access to the gardens, toilets or picnic/play areas. There will be no refreshments. *Social distancing measures will be observed (full details below).
What's for sale?
The plants available include a variety of perennials and annuals grown by the Martineau Gardens volunteers including herbs, scented geraniums, irises, strawberry plants, and so much more.
Multi-purpose peat-free compost is available, though limited to two bags per household. Pay at sales point in exchange for a voucher, and a volunteer will be on hand to exchange the voucher for the compost.
What to expect:
We strongly advise you to read the following before visiting the Plant Sale
In order to keep you, our visitors, and our staff and volunteers safe during the Plant Sale now that government guidelines relating to Covid-19 are relaxing, please read the following:
Arrival at the Plant Sale:
On arrival in the car park, if there is a queue, pedestrians should please join the queue at the head of the access lane, observing the 2m social distancing guidance. If arriving by car, please park and join the queue/ remain in your car if there is a queue.
If the car park is full the gate will be closed. Please try again later. Parking is only available within the Martineau Gardens car park.
There will be a one way pedestrian system in and out of the Plant Sale (entrance via the track and Tai Chi Lawn, exit via the Welcome Shelter). Two people per household only beyond the Welcome Shelter with max of four people (two households) in the Plant Sales are at any time.
During your time at the Plant Sale, please observe social distancing of 2m with staff and other customers and observe the directional signage for the one way system. If the additional person with you is a child, please keep them close to you and supervised.
Please only pick up plants you will be purchasing.
Please bring your own bags or boxes to put your purchases in.
We anticipate 20 – 30 minutes for each visit
Please note there will be no toilet facility available.
If you, or anyone in your household is displaying Covid-19 like symptoms, please do not visit the Plant Sale.
Advice for those with limited mobility:
Parts of the one way route may be challenging for wheelchairs since the route passes over grass (the Tai Chi Lawn) and gravel (the track). If this poses a concern for you, please contact the office on 0121 440 7430.
Payments:
We prefer card sales, but can accept cash.
Donations:
If you would like to add a donation to your purchase we will be most thankful.
Please remember that the toilets, picnic and play areas, buildings and wider areas of the gardens remain closed during the Plant Sale.
Martineau Gardens during Lockdown
Your purchases will help to support the Gardens during this difficult time. If you'd like to know what's been going at Martineau Gardens during Lockdown, please keep an eye on our website, follow us on social media or sign-up to receive our email bulletins here.
Martineau Gardens remains closed to the public, the plant sale is a one-off fundraising activity.
For the latest information, please view our Covid-19 statement here
27 Priory Road, Edgbaston, Birmingham, West Midlands, B5 7UG
Located opposite the Priory Hospital, and 5 minutes from the Midlands Arts Centre (the MAC) and Warwickshire County Cricket Ground
---
Martineau Gardens is delighted to announce that on Tuesday 2 June 2020, we have been awarded the Queen's Award for Voluntary Service.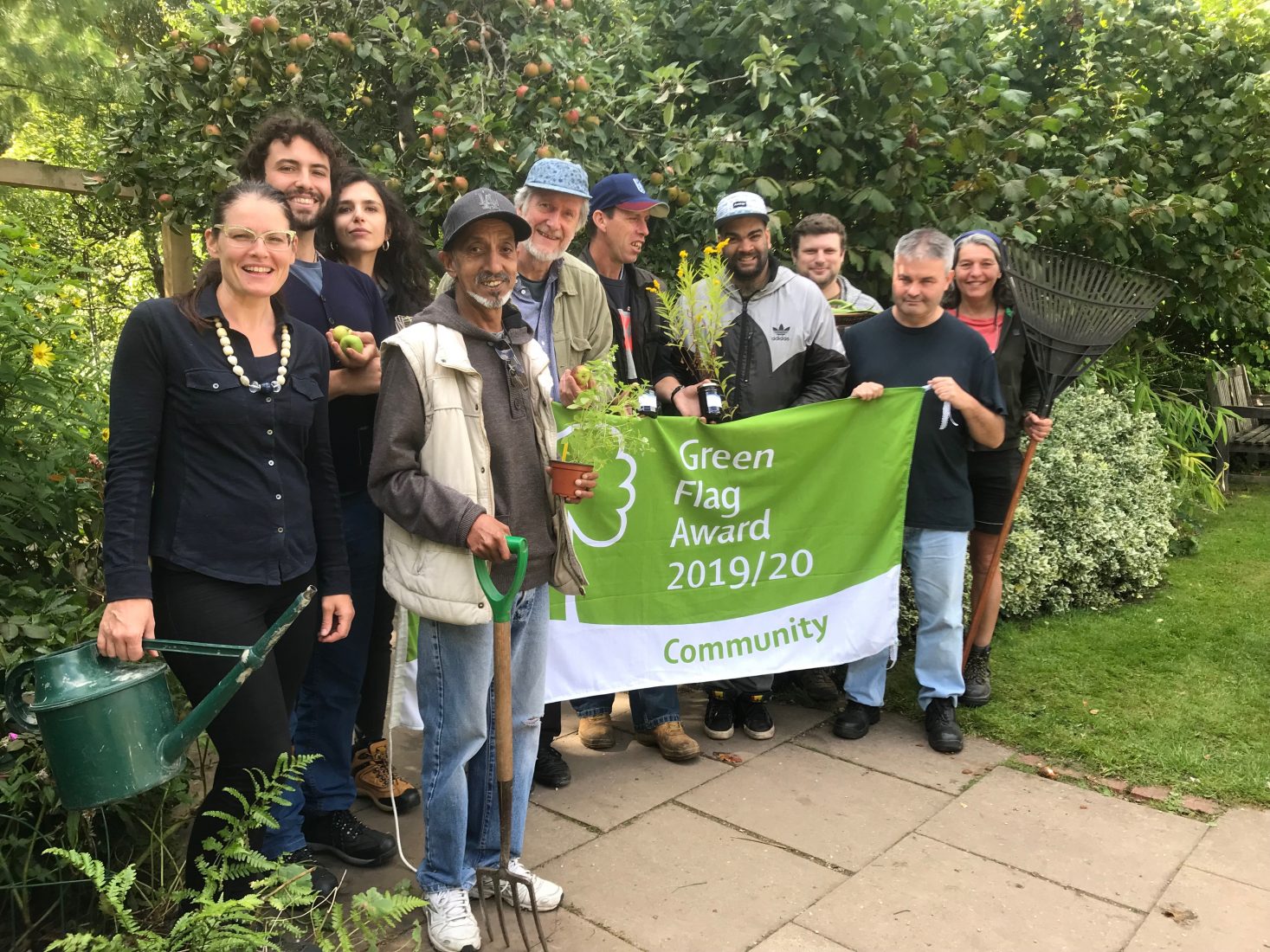 Watch our celebratory slide show here:
(2 minutes of glorious Martineau Gardens' memories for you)
You can read the full story here, in our media release.
Media Release:
Local charity Martineau Gardens, based in Edgbaston, has been honoured with the Queen's Award for Voluntary Service, the highest award a voluntary group can receive in the UK.
Established in 1997 as a volunteer-led organisation, Martineau Gardens became a registered charity in 2001 with a volunteer board of trustees. The organisation now supports volunteers on the therapeutic horticulture programme to look after the 2.5 acre free-to-enter community garden.
A team of volunteers welcome over 10,000 visitors each year and a further team helps out with open days and events. Martineau Gardens has been described by visitors as 'an oasis of calm in the bustling city' and as 'Birmingham's hidden gem' – all thanks to the dedication of the wonderful volunteers.
Martineau Gardens is one of 230 charities, social enterprises and voluntary groups to receive the prestigious award this year. The number of nominations remains high year on year, showing that the voluntary sector is thriving and full of innovative ideas to make life better for those around them.
The Queen's Award for Voluntary Service aims to recognise outstanding work by volunteer groups to benefit their local communities. It was created in 2002 to celebrate the Queen's Golden Jubilee.
Recipients are announced each year on 2nd June, the anniversary of the Queen's Coronation. Award winners this year are wonderfully diverse. They include volunteer groups from across the UK, including a community shop in Cornwall, an environmental group in Swansea, a group working with refugees and vulnerable people in Stirling and a thriving community arts centre in County Down.
Representatives of Martineau Gardens will receive the award from John Crabtree, OBE, Lord Lieutenant of the West Midlands later this summer. Furthermore two volunteers from Martineau Gardens will attend a garden party at Buckingham Palace in May 2021, along with other recipients of this year's Award.
Sue Roberts, Chair of Trustees says: "We are delighted and honoured to receive the Queens Award for Voluntary Service. Volunteers are the beating heart of Martineau Gardens. Whether supporting our work week in week out, or rising to the challenge when needed, each one makes a difference. The Award is testament to hundreds of volunteers past and present, who have given selflessly to care for our beautiful community space. We look forward to being able to have everyone back at the Gardens for a well-deserved celebration."
Martineau Gardens is currently closed due to COVID -19. During normal times of operation, Martineau Gardens is open to the public to visit, free entry, Monday to Saturday 10am until 4pm except Bank Holidays. In addition to the Therapeutic Horticulture volunteer project and the Education service, the Gardens host events and courses, provide venue hire and sell plants and produce.
The Queen's Award Voluntary for Service
1. Lord Lieutenants represent the monarch in each of the UK's ceremonial counties.
2. This year there were 230 recipients of The Queen's Award Voluntary Service from across the UK. More information on the recipients and the Award can be found here
3. Any group of two or more people that has participated in voluntary work for more than three years can be nominated for the award. Full details on how to nominate are available here
4. Nominations for the 2021 awards close on 25 September 2020.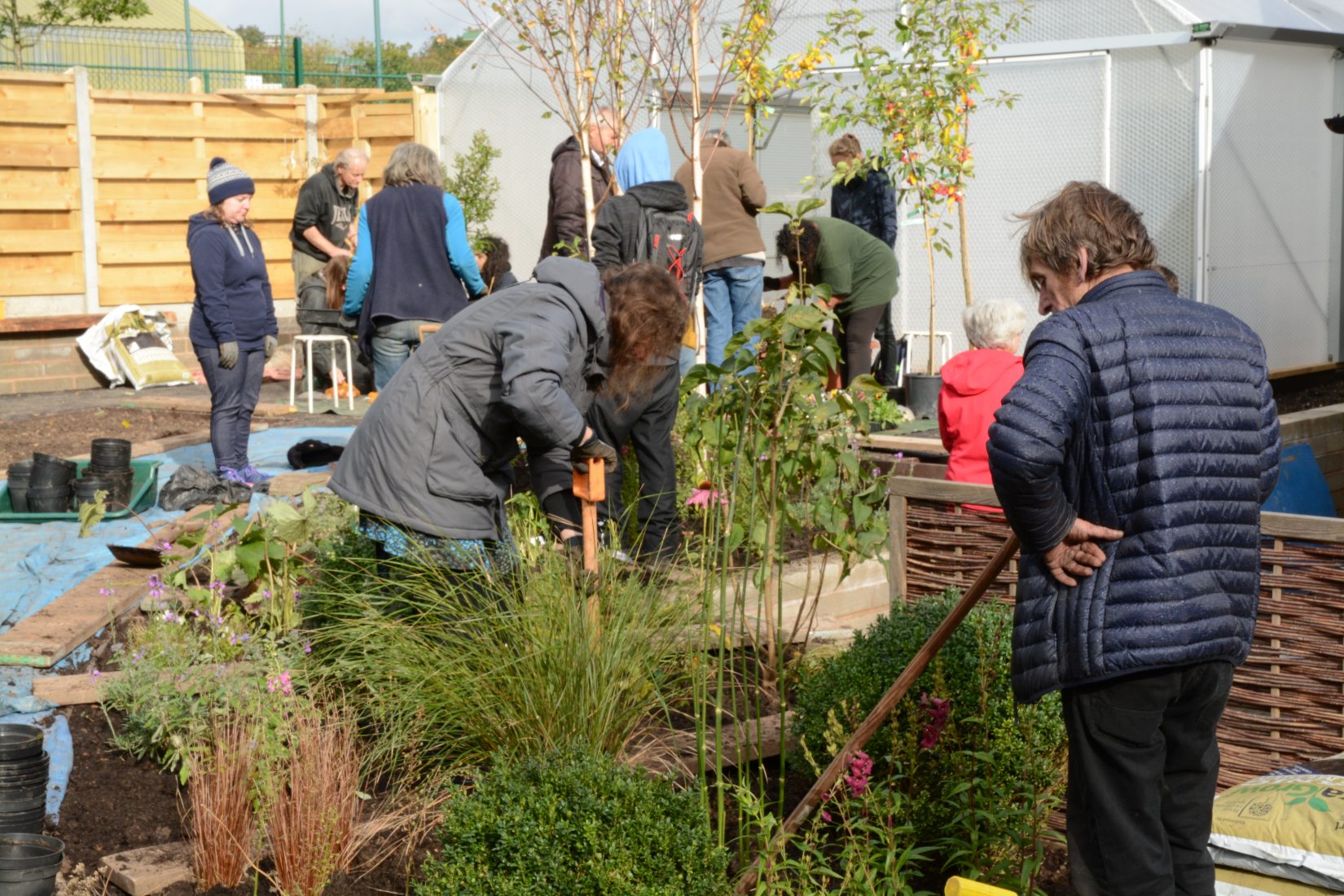 ---
Updated 28 July 2021
A message from our Trustees:
Visiting the Gardens in Summer  – an update
Martineau Gardens continues to be open for both public visits Mondays – Saturdays*, from 10am until 4pm, (excluding nank holidays) and we continue to be free to visit (except on special events days) and your donations are always welcomed. Now we have passed 19 July, the date on which restrictions were lifted, we ask all our visitors to be respectful of other people's space here at Martineau Gardens and those observing social distancing. Unless you have hired the Pavilion, our public buildings and glasshouses will continue to be closed to the public (our toilets are open). Be reassured that Martineau Gardens will comply with any covid-secure measures that remain in place.
To plan your visit to Martineau Gardens, please read this page so you know what to expect and are prepared and please check this statement regularly for updates. 
We are buoyed up by the support we have received from our Friends, Charitable Trusts and visitors who have continued to donate over this difficult period. Please consider becoming a Friend of Martineau Gardens to support the work that we do and help to keep Martineau Gardens open for free. Did you know that you can donate when you visit – whilst cash is welcomed, we do have QR code enabled online giving and a card machine for cashfree donations.
*We have extended our opening hours for visits to include Saturdays (commecing Saturday 31 July 21). To stay in touch with latest developments sign up to our  e-news here   and follow us on facebook or twitter.
Contact details: Telephone: 0121 440 7430. If the office is not staffed please leave a message.  You can also email us via [email protected] but please bear with us, since the response back will take longer than usual.
Useful links:
How do I become a Friend of Martineau Gardens – join here 
Visiting Martineau Gardens in Summer 2021 – what to expect 
FAQs:
Can i book the Gardens for my celebration? 
From 19 July you will be able to hire the Pavilion as well as the Gardens. We are now limiting party size to 50 people (adults and children). If you wish to have a celebration for a greater number of people, please call to discuss your plans with a member of staff. For all private events such as these, we recommend that you visit before making a booking if you are not familiar with the Gardens.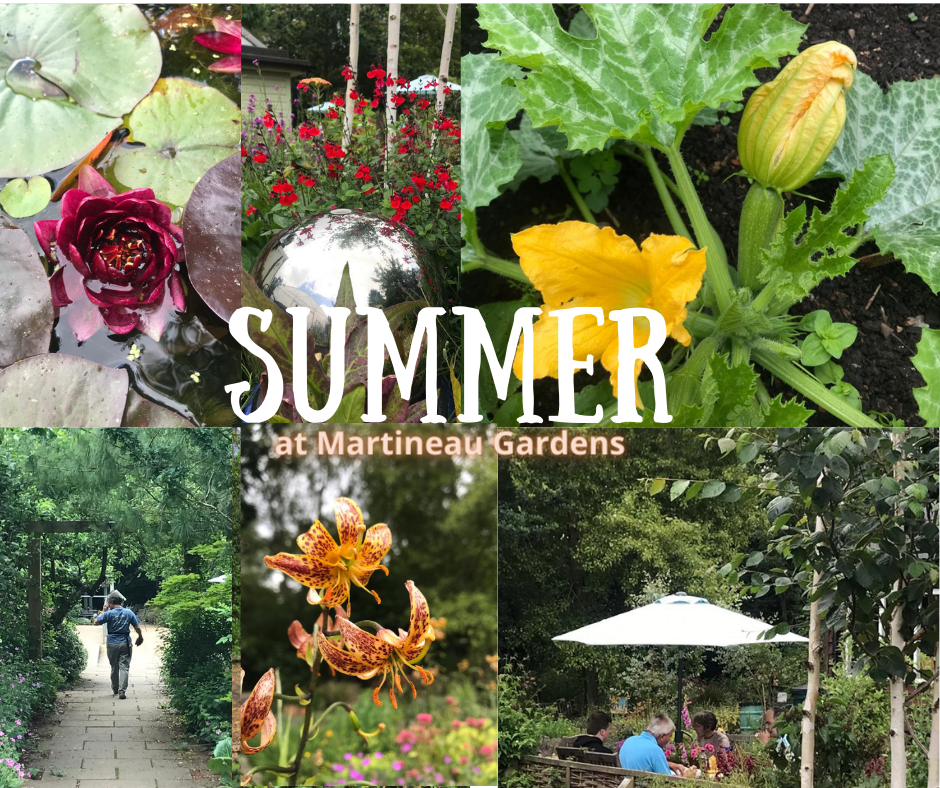 ---
We need your support more than ever during these difficult times. Please help us to carry on so that we can still be the hope in many people's lives. As a small organisation we're facing all the challenges that temporary closure (due to Government advice around Covid-19) brings.  With public visits, venue hire and events postponed, and the corresponding income streams removed, we are doing our best to weather the storm.
Donations now will ensure our running costs are met meaning we can continue to be the place where people, plants and wildlife meet.
We are trying to look after the Gardens as long as we can, within the current guidelines. We look to the future where we can be a safe and welcoming space for all to connect with nature and improve wellbeing. Many of us will need this more than ever.
Our Gardens still need to be tended, during this temporary closure, and we are hugely appreciative of those who are in a position to be able to get to Martineau Gardens and keep on top of the gardening.
Local Giving – our chosen on-line giving platform for collecting donations (including gift-aid), have reduced their fees. Find out more here
---
The shipwreck play area in by-gone days
At time of writing, playparks across the country have been closed. Hard times for children.
You're never too young to benefit from time spent outside – the play area at Martineau Gardens has been a well-used, much loved area providing opportunity for children to engage their imagination and improve their wellbeing at the same time. Using the natural landscape and features of the Gardens in play, whether it's hide and seek, sandpit constructions, picnics or pirate fun – families can connect with nature and each other. Martineau Gardens is a safe and an inclusive space offering play without cost, within an area of extreme economic disparity. School children on educational visits also play here during their lunch breaks.
Due to a big increase in footfall recently, in the winter months we plan to update and repair the Pirate Shipwreck area- it will be in keeping with our commitment to consider the environment and wildlife in all we do.
You can help us by:
*Contributing to our planning stage by filling out our questionnaire (either on-line here)
* Note whether your local shop is Co op since there are five stores nearby that are supporting Martineau Gardens with this year's Local Community Fund. Read more:http://bit.ly/2IAdEGO
---
Play Area Development: Visitor Input
We are planning to redevelop the area and would value your input. Please answer the questions below and add anything else that you think is relevant.
Thank you so much for your input.
---
Martineau Gardens Volunteer: Aubrey
This is Aubrey, a volunteer on our Therapeutic Horticulture Programme. His story is one of incredible challenges, met and overcome with resilience and determination. In six months, he has become a valued team member and has made huge changes in his personal life.
Aubrey hasn't had it easy and he admits to making choices when he was younger, that he now regrets. He had a difficult childhood, with lots of setbacks.
A little over six months ago, Aubrey came for a trial volunteering session at Martineau Gardens, after facing rejection at other places, he describes a very different experience. He chatted to people, felt at ease and really believed that he would fit in. He wasn't wrong; a few days later, he got a call from the office ….
"I thought they'd changed their mind and didn't want me. I was gutted, but instead they asked for my help. They had been let down and needed some digging doing straight away on a new garden. They needed me!"
So Aubrey and some other volunteers came in and saved the day, they worked incredibly hard, laughed and dug and chatted and made friends in the mud. A regular and much loved Martineau Gardens' volunteer since that day in the Courtyard Garden, Aubrey describes how even on days when he really doesn't feel like getting up, he still comes in, because he knows he will feel better afterwards. Coming on the bus, he says he feels different – there's an excitement and real sense of something good about to happen and at the end of the day he's tired but feels really lifted to have done something that helps.
It's hard to hear Aubrey talk about the things that make a difference to him when he volunteers at Martineau Gardens. He talks about being shamed at school because he needed help with reading and writing. Teachers and students joined together and laughed at him in front of everybody. He says:
"When I'm working here, Stewart notices if I don't know how to do something. I don't even have to ask. He shows me without making me feel stupid. That matters.
Just before Christmas, we got the best news … Aubrey was assessed as being able to have his own supported flat. He and we are so proud and that was even before he told us he had two job offers. A new job means he might have to leave Martineau Gardens, but Aubrey will always be part of the Martineau Gardens family; if we could, we would have given him a job. He said:
"Martineau Gardens has given me hope. Hope that I can get a legal job and never have to be looking over my shoulder again."
---
If you know Martineau Gardens then we're sure like us, you feel the intrinsically restorative qualities of our beautiful, natural environment. Our Therapeutic Horticulture programme has been running successfully for many years and we wanted to explore other ways the Gardens could help improve wellbeing. Supported by Bupa UK Foundation, we have been able to offer, without charge, creative courses to people who are 40-65 years and are experiencing self-identified problems with their mental health. The workshops run over five mornings each, and use the Gardens as inspiration. Mosaics (participants and artworks pictured above) photography have run, and planned for the future are creative writing, Tai chi and creative gardening. Our aim is that participants and through them, their friends and families will carry with them, in the words of one our volunteers 'the big green hug that is Martineau Gardens' and will continue to visit this restorative space for a long time to come.
We look forward to the time when we can run the remaining courses —please check our website for updates.
---