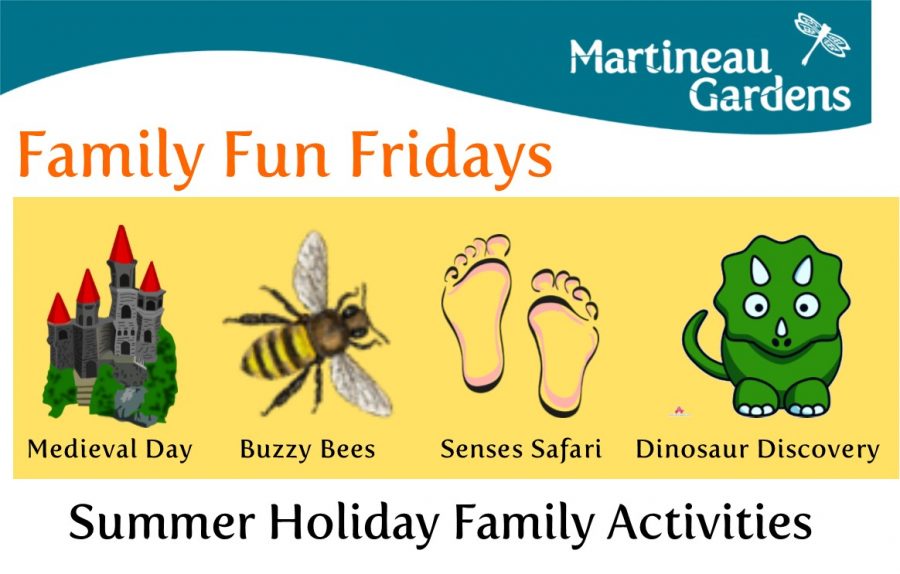 Summer's here! Come and join our family activity sessions taking place during the summer holidays  – ideal for finding out more about the wildlife at Martineau Gardens, the community garden in Edgbaston, near Birmingham. There will be plenty of fun and play along the way. We have some brand new activity sessions on our 'Family Fun Fridays' and are re-running some popular sessions on Tuesday mornings.
Choose from the following sessions; each session costs £5 per child (accompanying adults are free). Booking in advance is essential. Sessions are led by Juliette Green, our Education Officer.
 Family Fun Fridays (morning and afternoon sessions available)
 Medieval Day Friday 27 July: Make a sword and shield or a magic wand, build a mini 'wattle and daub' house, hunt for dragons in the woods, create forts and sandcastles in the play area. Costumes welcome!
Buzzy Bees Friday 10 August: A family activity session to learn about honeybees and bumblebees. Meet one of our beekeepers to find out about life in the hive, play pollination games, and learn more about how bees help us and what we can do to help them. You can also make a 'wildflower bomb' to take home so you can grow your own wildflowers to attract bees and other pollinating insects.
Senses Safari Friday 17 August: Engage your five senses! LOOK at the plants in our beautiful garden; LISTEN to musical instruments you can make from natural and recycled materials; SMELL and TASTE some of our herbs and vegetables; FEEL your way around the woodland as you play blindfold games and tickle your toes with a barefoot walk. (You may want to bring a towel to dry feet at the end!)
Dinosaur Discovery Friday 24 August: Make an explorer hat, then enter the woods to search for dinosaurs. Create a clay fossil, do an archaeological dig and finish with a dinosaur story. Bring along your own toy dinosaurs if you have them!
Other family activity sessions (taking place on Tuesday mornings)
Pirate Adventure! Tuesday 31 July: Go on a treasure hunt, make a boat to float on the pond, find some mini "monsters of the deep" (pond dipping) and make pirate bunting. Wear your best pirate costume!
Plant Professor Tuesday 7 August: Explore the woodland and garden, learn about different parts of plants and their jobs, taste some of our herbs and vegetables. Earn yourself a Plant Professor certificate!
Minibeast Safari Tuesday 14 August: Hunt for minibeasts in the woods, try a true or false trail, have a go at pond dipping and listen to a minibeast story. Come dressed as your favourite minibeast!
Click on your choice of session(s) below, to be redirected to wegottickets.com to purchase your ticket. (Please note, on the days when there is a morning and an afternoon session, these will be identical so just choose one of them.)
Medieval Day Fri 27 July 10am – 12pm   OR   Fri 27 July 1.30pm—3.30pm
Pirate Adventure Tues 31 July 10am – 12pm
Plant Professor Tues 7 August 10am – 12pm
Buzzy Bees Fri 10 August 10am – 12pm   OR   Fri 10 August 1.30pm—3.30pm
Minibeast Safari Tues 14 August 10am – 12pm
Senses Safari Fri 17 August 10am – 12pm   OR   Fri 17 August 1.30pm—3.30pm
Dinosaur Discovery Fri 24 August 10am – 12pm   OR   Fri 24 August 1.30pm—3.30pm
Here's what you need to know:
This is a family learning event —activities are for supervised children aged 3—12 years. Parents/carers are expected to stay and join in but don't pay, children's tickets are £5 per head. Numbers are limited to 20 children per session – book in advance to avoid disappointment. 
Dress appropriately for the weather, since the session will take place outside.
Bring a drink and a snack, or bring your packed lunch if you'd like to have a picnic at Martineau Gardens (after the morning session or before the afternoon one).
Martineau Gardens serves hot and cold drinks (for which donations are welcomed) but not food. You can find out more about the Gardens here.
Tickets:
Tickets are on sale via wegottickets.com
£5 per child  (+ 50p booking fee)  advance booking essential wegottickets.com
To book, please select from the eleven sessions above (choosing a morning OR afternoon session) and you'll be redirected to wegottickets.com to make your payment.