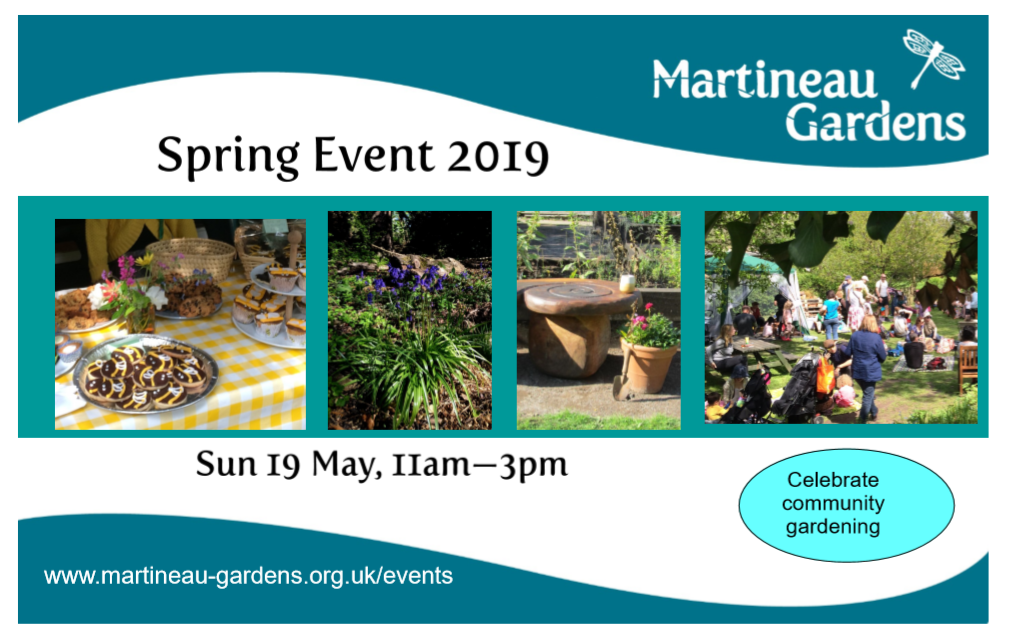 Sun 19 May, Spring Event, Martineau Gardens, 11am-3pm (tickets on the gate)
Enjoy live music, delicious food and family friendly activities at our 'green' fete, a perfect opportunity for visiting the Gardens in the height of Spring. Wander around local stalls, join in with activities. The event will be a chance for you to stock up on spring herbaceous plants and compost, plus freshly cut vegetables. Children can playing around the 'shipwreck', follow the Stick Man Trail and drop into 'play with clay'. There's a felting workshop for older children.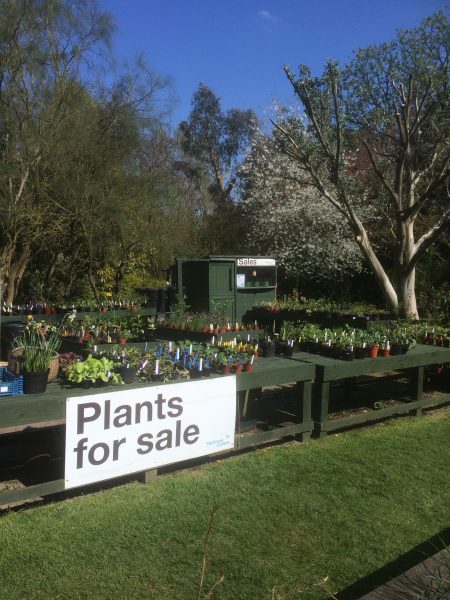 Gardeners will enjoy the opportunity to stock up on Martineau Gardens' Spring herbaceous plants and compost. Stewart Holmes and Miranda Kingston (Therapeutic Horticulturalists) will be on hand to answer gardening questions and selling plants grown at the Gardens.
Visitors are welcome to bring their own picnics, but there will be delicious home-made cakes, salads and sandwiches and other refreshments on sale. The Gardens, though only two miles from Birmingham city centre, are a green oasis teeming with wildlife. There's plenty to enjoy, including woodland, glass houses, formal gardens, orchard, vegetable plots, wildflower meadow, a nature trail, a bird hide and more.
Live Music:
There will be live music from local musicians, with performances from Moseley Village Band, Drum Voice, Wraggle Taggle, the Café Band, Rig Ma Reel and Escalado.
Stalls:
The event brings together over 10 community organisations whose stalls will be dotted around the gardens. Event goers can find out about groups like Greener Birmingham, Kings Heath Action for Refugees, Tools for Africa and Birmingham Friends of the Earth. Local craft groups (including the Craft Co op and Claire Cotterill Mosaics)  will have demonstrations and items for sale and you can spruce up your garden with plants from Martineau Gardens and Suburban Gardens and stock your larder with preserves and more from Cuffufle Preserves.
Beekeeping – chat to our volunteer bee keepers about beekeeping, view the demonstration bee hive, bee themed jewellery making and find out about the 4 courses running this year.
About Martineau Gardens
When the city council-run environmental centre closed in 1997, a group of local people came together to create a community garden that would stay open for free, for the public of Birmingham to visit and care for. Supporters included former staff, neighbours, Birmingham Friends of the Earth and members of the Martineau family.  Today our Martineau Gardens is a thriving independently run charity and one of the longest running Community Gardens in Birminghame: volunteers (many of whom have mental health issues and learning disabilities) care for the Gardens, hundreds of school children come to learn about the environment and Birmingham people (now in their thousands) visit the Gardens annually.
You can find out more about our history here.
Support your local community garden!
Profits raised from the Spring Event help to keep these beautiful gardens open for free and enable the Therapeutic Horticulture Programme to continue. Spread the word and invite your friends and family!
Getting to the Event:
There is a small car park at the Gardens, reserved for disabled parking.  Public parking for the event is over the road, at the Priory Hospital, by kind permission. Please drive to the rear of the car park, to the area that adjoins the Elmhurst School of Dance (follow the signs). Approx 100 spaces.
We recommend that you consider the green option and travel by public transport to the event. Martineau Gardens is well served by buses. The nearest bus routes are  Priory Road: 1;  Bristol Road: 61, 63; Pershore Road: 45, 47 . To plan your journey by public transport, visit www.traveline.info and use the Martineau Gardens' postcode, B5 7UG.
Cyclists: we have a brand new bike shed – on arrival in the carpark, head for the right hand side, dismount and walk to the end of the track.
The forthcoming cycle route along the A38 (Bristol Road)  means  motor vehicle access to Martineau Gardens is changing – there are restrictions on Priory Road for traffic travelling on the Bristol Road (A38), follow diversionary signs.  Please allow a bit longer for your journey. Read our guide here.
Admission:
£4 (non-members), £2(concessions) and free to Friends. 
Click here to become a Friend – or join up on the day.