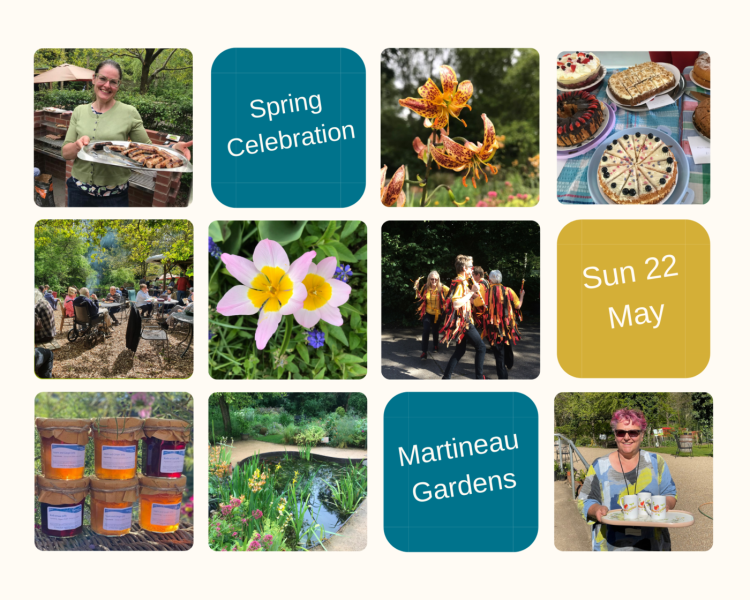 Sunday 22 May, Spring Celebration, Martineau Gardens, 11am-3pm  £4 adults; £1 children – tickets on the gate
2022 sees Martineau Gardens celebrating 25 years of bringing plants, people and wildlife together – come join us at our family-friendly green fete  on Sunday 22 May (11am until 3pm). Enjoy live music, delicious food and family friendly activities, all in the grounds of our beautiful community garden. Wander around local stalls, the creators' market, find out about gardening, hear the plans for our new building. Stock up on  plants and produce. There will be delicious homemade cakes for sale and, with the grand opening of our improved outdoor kitchen area – you'll be able to enjoy hot food straight off our new handmade barbeque.  Join in with traditional fete games and have fun with the family. All fund raised contribute to Martineau Gardens.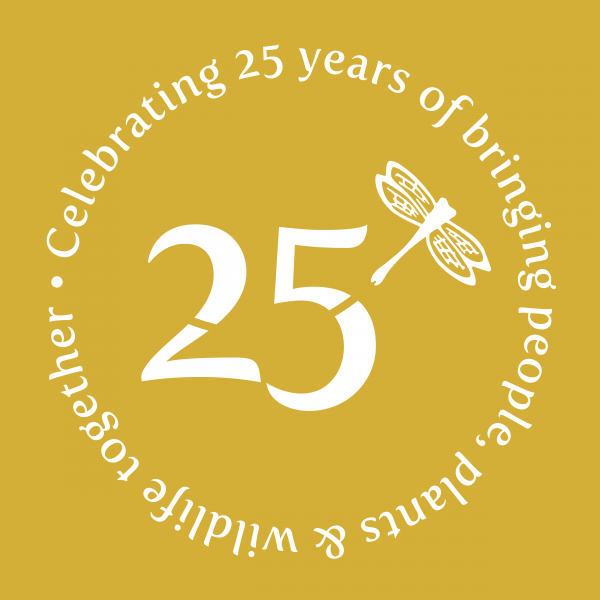 The Gardens, though only two miles from Birmingham city centre, are a green oasis teeming with wildlife. There's plenty to enjoy, including woodland, formal gardens, orchard, vegetable plots, wildflower meadow, a bird hide and more.
Live Music:
There will be live music from local musicians. We're so pleased to share the news that Black Adder Morris Dancers will be performing. They dance in clogs and wear red and yellow rag jackets (a nod to their connection to the Lancashire Mills), acompanied by a talented team of musicians on accordion, pipes, fiddle and drums. Like to join in? There'll be an opportunity to try it out yourself!
Creators and Makers Market:
We've had a brilliant response to our call-out for locally based eco based businesses and organisations – be sure to pop in and visit to pick up a treat for yourself or a friend – cash and card sales welcomed (but sorry, no cash point at Martineau Gardens).
Sundragon Pottery   come and have a play with clay (pinch pots, clay animals and more), pick up beautiful locally made ceramic ware and find out more about this Balsall Heath based community pottery (workshops and more)  *A treat for your garden or patio? enjoy a taste of the mediteranean and view the  terracotta Cretan Pots display from Crete Pots  plus olive trees and extra virgin olive oil (local delivery will be arranged) *Imagination Runs Wild Creating and selling inspirational story props to inspire plastic free play for early learning fun – beautiful handmade items to help children develop their imagination whilst playing  *Bourn Beautiful Naturals is a black-owned company, based in Bournville. Founded by Kadian Pow, our ethos is all about maintaining textured hair and skin's optimal moisture balance in formulas that are both effective and luxurious. Gorgeous soaps, conditioners, body cream and more. *Local Birmingham based maker, JuJu Candles makes handmade eco candles  soy wax and essential oils *
Community: 
Downsizing, decluttering or helping with a house clearance? Give your unwanted tools a new life in Africa! Tools for Africa sell refurbished garden and other tools, with all the proceeds of sales going to the national charity, Tools for Self-Reliance. Sharing the space with Moseley and Kings Heath Shed ('make, mend and socialise!'), who have made a selection of beautiful wooden, glass and mosaic pieces. Find out more about the work of both these fascinating organisations.
Come and find out how The Patchwork Meadow we are brightening up Birmingham and providing pit-stops for bees. Pick up a packet of wildflower seeds (hopefully giving us a small donation) and help us to create 'The Patchwork Meadow' by planting a pocket meadow in a pot or window box, in your garden or on your street.
About Martineau Gardens
When the city council-run environmental centre closed in 1997, a group of local people came together to create a community garden that would stay open for free, for the public of Birmingham to visit and care for. Supporters included former staff, neighbours, Birmingham Friends of the Earth and members of the Martineau family.  Today our Martineau Gardens is a thriving independently run charity and one of the longest running Community Gardens in Birminghame: volunteers (many of whom have mental health issues and learning disabilities) care for the Gardens, hundreds of school children come to learn about the environment and Birmingham people (now in their thousands) visit the Gardens annually.
You can find out more about our history here.
Support your local community garden!
Profits raised from the Spring Event help to keep these beautiful gardens open for free and enable the Therapeutic Horticulture Programme to continue. Spread the word and invite your friends and family!
Getting to the Event:
There is a small car park at the Gardens, reserved for disabled parking.  Public parking for the event is over the road, at the Priory Hospital, by kind permission. Please drive to the rear of the car park, to the area that adjoins the Elmhurst School of Dance (follow the signs). Approx 100 spaces.
We recommend that you consider the green option and travel by public transport to the event. Martineau Gardens is well served by buses. The nearest bus routes are  Priory Road: 1;  Bristol Road: 61, 63; Pershore Road: 45, 47 . To plan your journey by public transport, visit www.traveline.info and use the Martineau Gardens' postcode, B5 7UG.
Cyclists: we have a covered bike shed – on arrival in the carpark, head for the right hand side, dismount and walk to the end of the track.
Admission:
Tickets on the gate: £4 adults, £1 for children (2 years and over).
Please give generously, donations are always welcomed!