Much Ado About Nothing (open- air theatre)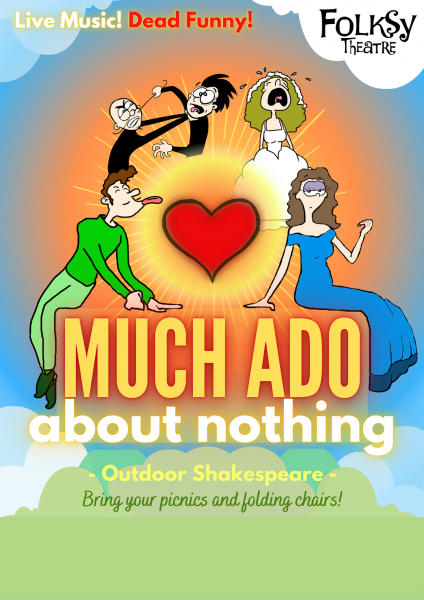 Tuesday 19 July, Martineau Gardens, 7pm (gates open 6pm), Martineau Gardens, 27 Priory Road, Edgbaston, Birmingham, B5 7UG.
We're delighted to welcome back Folksy Theatre with their 2022 productions.  Experience the gardens transformed into an outdoor theatre, with the deck of the Pirate Shipwreck playarea becoming the stage for Shakespeare's comedy 'Much Ado About Nothing'.
Two young lovers, Claudio and Hero are to be married but a malicious scheme threatens their big day. Meanwhile marriage seems inconceivable for the bantering Beatrice and Benedick, Shakespeare's wittiest and most loveable pair of reluctant lovers, whose endless sparring threatens to keep them apart forever! Folksy's wonderful outdoor production is filled with live music and colourful characters.
About the Event
This is an open-air event, so please come prepared for the weather!
The show will take place on the deck of the Shipwreck Playarea. seating will be provided  on the area in front is of the deck, which is covered with bark chippings. Nearer the time, we will advise if you need to bring your own folding chairs – we now have quite a selection available for our audience.
You are welcome to enjoy a picnic before hand – with gates opening to ticket holders one hour before at 6pm (the show starts at 7pm). The show will last approximtaely 2 hours and 20 minutes and an interval is included.
* Information correct at time of writing 
Tickets: 
£15 adult, £12 child and £48 for a family ticket (two adults and two children).
Family plus 1 (2 adults and 3 under 16s) please purchase 1 x Family Ticket plus 1 child ticket = £60
How to purchase
Booking in advance recommended, to avoid disappointment.
online: Book on-line with Folksy Theatre    (booking opens 1 April 2022) until the day before the show; booking fee applies


In person from Martineau Gardens Monday to Friday 10am  -4pm  (cash  and card sales, no booking fee) in advance, booking opens late spring, until 2pm on the day of the show. This is a paperless ticket event, the name of the person booking for you will be your reference. Tickets on sale now. Call 0121 440 7430 Mon – Fri 10am – 4pm.

On the gate, subject to availability. 

Refund policy: Tickets are non-refundable. The performance will take place whatever the weather (unless dangerous).  If the performance is cancelled due to covid restrictions, tickets will be refunded.  

   

 
Getting to the Event
Martineau Gardens is close to the MAC and opposite the Priory Hospital.  There is a small car park on site at Martineau Gardens. Additional Parking opposite at Priory Hospital, by kind permission. Drive to the rear of the car park, to the area that adjoins the Elmhurst School of Dance (follow the signs) and allow yourself a few minutes extra to walk back to the Gardens. There is a pedestrian crossing at the bottom of Priory Road. 
The Gardens are served by buses 1, 45, 47, 61 or 63  and there is a covered bike rack on site, located close to the Pavilion.
For full location details, click here.
Take a look at photographs from previous productions, here at Martineau Gardens and around the country
More theatre?
Folksy Theatre is returning to Martineau Gardens later in the month with their family production of  'Alice in Wonderland'. Find out more here:
Alice in Wonderland, Sunday 24 July, 2pm (gates open 1pm)