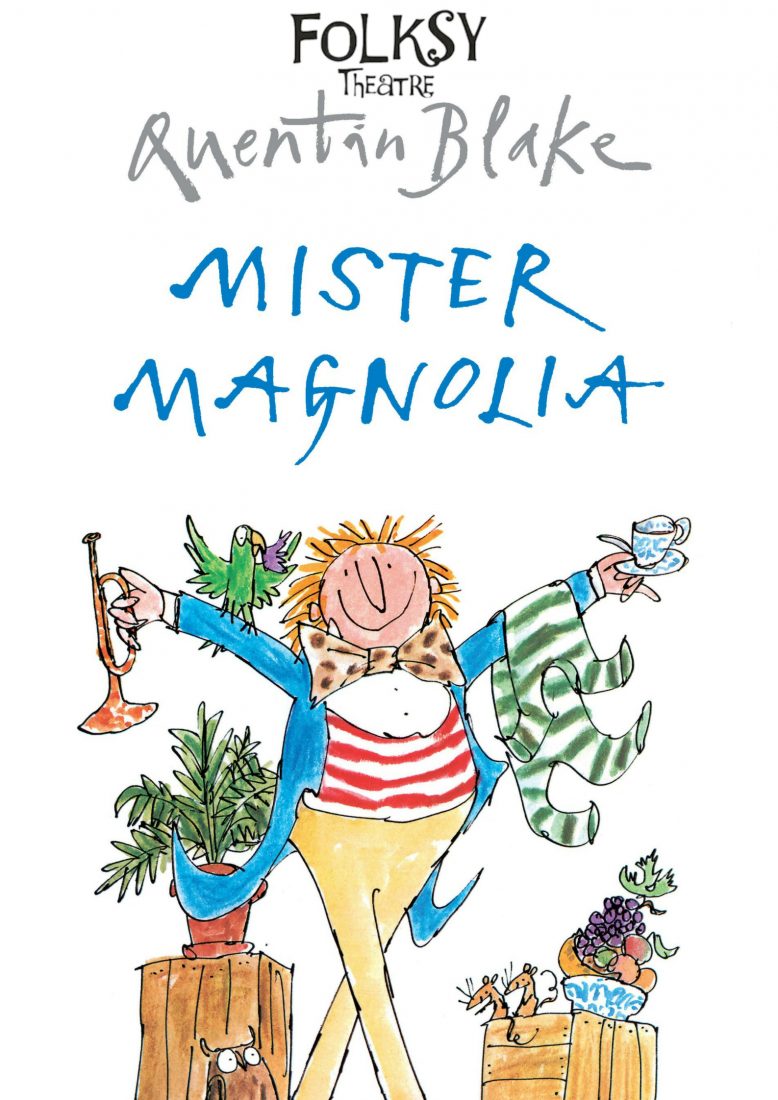 Mr Magnolia
Tuesday 23 July, 4.30pm (gates open 3.30pm), Martineau Gardens, 27 Priory Road, Edgbaston, Birmingham, B5 7UG.
Mr Magnolia has many things, such as an old trumpet that goes rooty-toot, some very fat owls learning to hoot, a big purple dinosaur who's a magnificent brute, two sisters who play the flute, and even a swimming pool. But he still only has one boot! Join Mr Magnolia on his wacky adventures, filled with Folksy Theatre's bold characters, live music, puppetry and audience interaction, it's a day out not to be missed! Based on the book by Quentin Blake.
Bring along picnics, blanket and folding chairs.
2's and under are free and do not need a ticket.
Please note that tickets are non-refundable and performances go on whatever the weather. 
Tickets:
Advance tickets – £12 adult, £10 concession/ child (aged 2 to 16 years), £38 Family (2 adults, 2 under 16's, can only purchase in multiples of 4), Family plus 1 (2 adults and 3 under 16s, please purchase 1 x Family Ticket plus 1 child ticket = £46
On the gate tickets (subject to availability) –  £15 adult, £12 concession/ child, no family ticket available.
Under 2's are free.
How to purchase:
online: Book on-line with Folksy Theatre    (until 24 hours before the show, booking fee applies) 

In person from Martineau Gardens Monday to Friday 10am  -4pm  (cash, cheque and card sales, no booking fee) in advance until 12noon Tuesday 23 July
On the gate, subject to availability. Note, family tickets are only available in advance.                          
About the Event
This is an open-air event, so please come prepared for the weather! There will be a marquee in the audience area which will provide ample shelter, but please bring wet weather protection, if needed. Picnics are welcomed, plus picnic rugs, blankets and folding chairs.
Martineau Gardens is closing early at 3pm, gates open for ticket holders at 3.30pm for picnics. The show will start at 4.30pm.
Getting to the Event
Martineau Gardens is close to the MAC and opposite the Priory Hospital. Public parking to will be at the adjacent Edgbaston Priory Tennis Club. Please use the overflow car park off Priory Road. On entering the car park, first left (not the car park opposite to the Indoor Tennis Centre).
(There is a small car park on site at Martineau Gardens.)
The Gardens are served by buses 1, 45, 47, 61 or 63  and there is a bike rack on site, located close to the Pavilion.
For full location details, click here.
Take a look at photographs from previous productions, here at Martineau Gardens and around the country
Saturday 24 August, 7pm