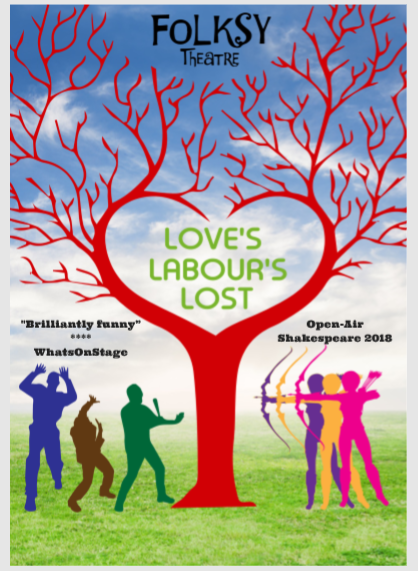 Love's Labour's Lost
Saturday 25 August, Martineau Gardens, 7pm (gates open 6.30pm), Martineau Gardens, 27 Priory Road, Edgbaston, Birmingham, B5 7UG.
We're delighted to welcome back Folksy Theatre with their 2018 productions. Saturday 25 August will see the Gardens transformed into an outdoor theatre, with the deck of the Pirate Shipwreck becoming the stage for Shakespeare's comedy 'Love's Labour's Lost'.  The King of Navarre and his lords swear off food, women, and sleep in order to study for three years. No sooner have they made their oath when the Princess of France arrives on business, with her ladies-in-waiting. How will the King and his Lords resolve hold up? This wonderful Shakespeare comedy is filled with Folksy's touch of live music, audience interaction and downright silliness.
Bring along picnics, blanket and folding chairs.
Tickets:
Advance tickets – £13.50 adult, £10 concession , £8 child (aged 2 to 16 years), £38 Family (2 adults, 2 under 16's, can only purchase in multiples of 4), Family plus 1 (2 adults and 3 under 16s, please purchase 1 x Family Ticket plus 1 child ticket = £46
On the gate tickets (subject to availability) –  £15 adult, £12 concession, £10 child, no family ticket available.
Under 2's are free.
How to purchase:
online: Book on-line with Folksy Theatre    (until 24 hours before the show, booking fee applies) 

In person from Martineau Gardens Monday to Friday 10am  -4pm  (cash, cheque and card sales, no booking fee) in advance until 4pm Friday 24 August
On the gate, subject to availability. Note, family tickets are only available in advance.                          
About the Event
This is an open-air event, so please come prepared for the weather! There will be a marquee in the audience area which will provide ample shelter, but please bring wet weather protection, if needed. Picnics are welcomed, plus picnic rugs, blankets and folding chairs.
Getting to the Event
Martineau Gardens is close to the MAC and opposite the Priory Hospital. Please park opposite, at the Priory Hospital (by kind permission), follow the yellow parking signs to the rear of the hospital grounds where a large car park is available, free of charge. Allow yourselves at least 7 minutes to walk back to Martineau Gardens. There is a small car park on site at Martineau Gardens.
The Gardens are served by buses 1, 45, 47, 61 or 63  and there is a bike rack on site, located close to the Pavilion.
For full location details, click here.
Take a look at photographs from previous productions, here at Martineau Gardens and around the country
Wed 29 August 2018, Martineau Gardens, 6.30pm