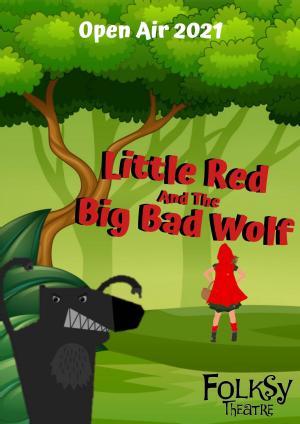 Little Red and the Big Bad Wolf   
THIS EVENT IS NOW SOLD OUT 
Saturday 10 July 2021, 11am (gates open 10am) Martineau Gardens, 27 Priory Road, Edgbaston, Birmingham, B5 7UG.
Little Red sets off through the forest to visit Grandma but the journey won't be easy, not with all these distractions! The three pigs are building their new homes, Goldilocks is having problems with some bears and to top it all off, the Big Bad Wolf is out on the hunt for his dinner! Can Little Red help her friends and still outsmart the hungry Wolf? Filled with live music, colourful characters and puppetry, this wonderful family musical has something for everyone! Bring along your picnics, blankets, folding chairs and friends and family!
Tickets:
Advance tickets – £15 adult,  £12 concession/ child, £48 Family (2 adults, 2 under 16's, can only purchase in multiples of 4), Family plus 1 (2 adults and 3 under 16s, please purchase 1 x Family Ticket plus 1 child ticket = £60
On the gate tickets (subject to availability),  no family ticket available. Book in advance to avoid disappointment.
About the Event
This is an open-air event, so please come prepared for the weather! There will be a marquee in the audience area which will provide ample shelter, but please bring wet weather protection, if needed. Picnics are welcomed, plus picnic rugs and blankets. Folding chairs  welcomed and you'll be located behind the picnic blankets.
The show will take place on our Tai Chi lawn, but you will have access to the Martineau Gardens Shipwreck Play area before and after the show.
Martineau Gardens will open later for general public, but gates will open for ticket holders at 10am for picnics and brunches. On the gate ticket sales (if available) will begin at 10am. The show will start at 11am.
Covid-secure: Whilst this is an open air event, taking place after 21 June* (the time when it is anticipated that covid social restrictions will ease) please be respectful of other people's space and those observing social distancing. Be reassured that Martineau Gardens will comply with any covid-secure measures that remain in place.
* Information correct at time of writing 
How to purchase: 

EVENT IS NOW SOLD OUT
online: Book on-line with Folksy Theatre    (until 24 hours before the show, booking fee applies) 

In person from Martineau Gardens Monday to Friday 10am  -4pm  (cash, cheque and card sales, no booking fee) in advance until 4pm Friday 9 July. This is a paperless ticket event, the name of the person booking will be your reference.
On the gate, subject to availability. Note, family tickets are only available in advance.   
Refund policy: Tickets are non-refundable. The performance will take place whatever the weather with the Martineay Gardens marquee available for shelter.  If the performance is cancelled due to covid restrictions, tickets will be refunded.
Getting to the Event
Martineau Gardens is close to the MAC and opposite the Priory Hospital. There is a small car park on site at Martineau Gardens. Additional Parking opposite at Priory Hospital, by kind permission. Drive to the rear of the car park, to the area that adjoins the Elmhurst School of Dance (follow the signs) and allow yourself a few minutes extra to walk back to the Gardens. There is a pedestrian crossing at the bottom of Priory Road.
The Gardens are served by buses 1, 45, 47, 61 or 63  and there is a bike rack on site, located close to the Pavilion.
For full location details, click here.
Take a look at photographs from previous productions, here at Martineau Gardens and around the country
More theatre?
Tuesday 17 August, 7pm