Thurs 30 May, 'I am Turtle' open air theatre, Martineau Gardens, 12noon with MakeShift Ensemble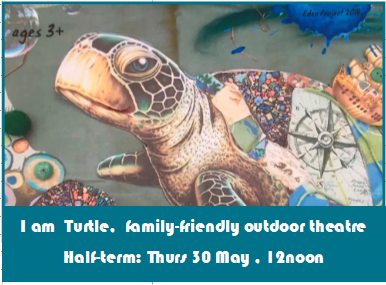 This May half-term bring the family to the Gardens for outdoor theatre, inspired by an environmental theme close to our hearts. The MakeShift Ensemble invite you to dive into the world of the Sea Turtle and learn about changing our plastic use. With a great story, songs and incredible puppets, 'I am Turtle' is suitable for 3 years upwards.
The Makeshift Ensemble say: "From our delightful story vaults comes a new adventure through the deep blue. Discover the ancient song of the Sea Turtles as they guide us on a journey through ship wrecks and sea shells, to sing their song anew when the future of their underwater world is in peril."
The celebrated storytellers from The Makeshift Ensemble, with support from Norwich Puppet Theatre roll out a new yarn to enchant listeners young and old (and in between). Based on the lyrical children's book 'Turtle's Song' by Alan Brown, I am Turtle is and enthralling delve into the great oceans to hear Turtle's story and what we can do to take care of their home.
Tickets:
Advance ticket purchase recommended to avoid disappointment.
Advance Sales:  Adult: £8 (17 years upwards);  Children £5 (two and under free)
On the gate (subject to availability):      Adult £11     (17 years upwards); Children £7 (two and under free)
Click here to be redirected to WeGotTickets  (booking fee applies)     
Advance sales cut-off point: On-line tickets from WeGotTickets available until 10pm on Wed 29 May. Tickets also available from Martineau Gardens  in advance via 0121 440 7430 until 10.30am am Thurs 30 May (no booking fee) ; or in-person (cash/cheque)  until 3.30pm Wed 29 May (no booking fee).
Refund Policy: Bookings for courses and events are non-refundable unless Martineau Gardens has to cancel an event or course due to unforeseen circumstances.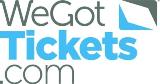 Planning your visit: 
This is an open-air event, so please come prepared for the weather! There will be a marquee in the audience area which will provide ample shelter, but please bring wet weather protection, if needed. Seating will be provided by Martineau Gardens. Picnics are welcomed.
Martineau Gardens is close to the MAC and opposite the Priory Hospital.  There is a small car park on site at Martineau Gardens. Additional Parking at Elmhurst School of Dance, by kind permission (access for this car park is from the Bristol Road, A38.  After you have parked, give yourself a few minutes to walk from the car park exit, then first left onto Priory Road, use the new pedestrian traffic lights to cross over and walk 50 metres to Martineau Gardens' front gates).
The Gardens are served by buses 1, 45, 47, 61 or 63  and there is a bike rack on site, located close to the Pavilion.
For full location details, click here.
What else?
Child-friendly open-air theatre about a turtle, in the grounds of a beautiful community garden, performed upon our pirate shipwreck 'stage'. Picnics are welcomed for this friendly event. After the show enjoy exploring our beautiful community garden, with woodland, gardens, vegetable beds and the Stick Man trail, there's plenty to see.
Love outdoor theatre?
Our next productions take place in August, with Folksy Theatre. Click here to find out more.