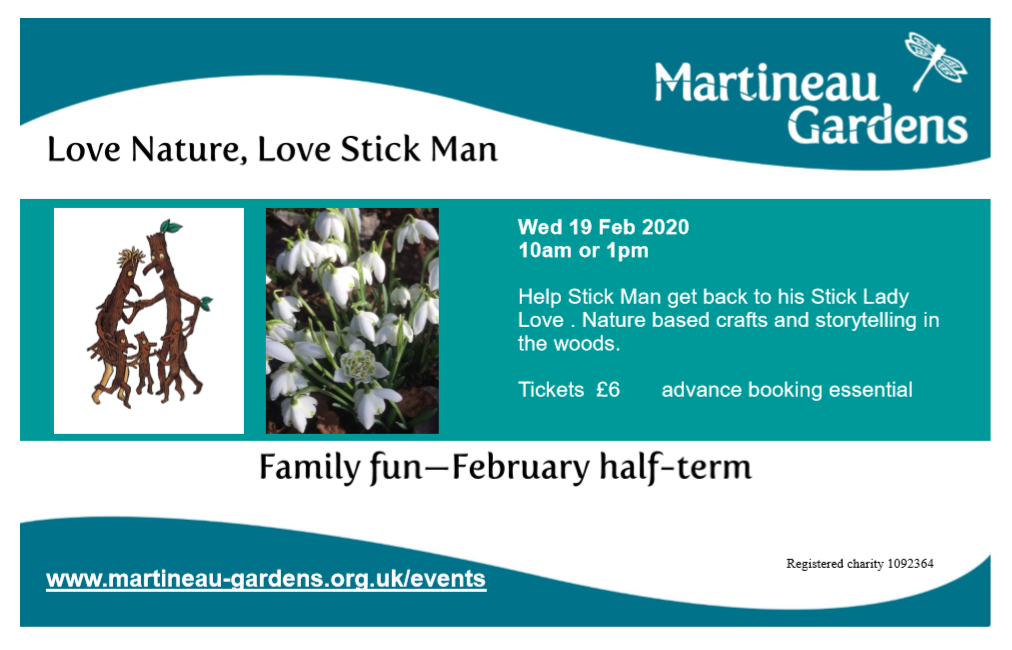 Take part in a 2-hour family activity session. Help Stick Man get back home to his Stick Lady Love by following our Stick Man Trail, with nature based crafts and storytelling in the woods and plenty of fun along the way. Parts of the session will be outside but we'll also go inside to warm up in our cosy Pavilion.
Here's what you need to know:
Family learning events are with Juliette Green (Education Officer, Martineau Gardens), this activity is for supervised children aged 3—7 years so parents / carers are expected to stay and join in the fun, but don't pay. The activities are aimed at 3 to 7 year olds but tickets may be bought for younger / older siblings
too who wish to participate in the activity.
Dress for the weather, as parts of the session will take place outside.
Bring a drink and a snack or bring your packed lunch if you'd like to have a picnic at Martineau Gardens (after the morning session or before the afternoon session).  Martineau Gardens serves hot and cold drinks (for which donations are welcomed) but not food.
Wed 19 February – half-term – choose from one of two identical sessions. either 10am – 12 or 1pm – 3pm
Advance booking is essential for these popular sessions, read on!
Book your ticket:
Cost: £6 per child (plus 60p booking fee), no sibling discount; parent / carer goes free. Max. 20 children per session. Tickets are only available online.
Click on your preferred time below to be redirected to WeGotTickets.
Refund policy: Bookings for courses and events are non-refundable unless Martineau Gardens has to cancel an event or course due to unforeseen circumstances. 
Martineau Gardens – where people, plants and wildlife meet. 
Your ticket price contributes to the great things that happen here, and helps to keep Martineau Gardens open, for all to enjoy.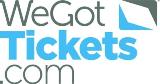 How to find us:
Martineau Gardens is at 27 Priory Road, Edgbaston, B5 7UG.  We have a small car park and are well connected to bus services and cycle routes. More information to plan your journey is here.
Stick Man and Martineau Gardens:
We are one of a very select group of city farms, community gardens and care farms in the UK that have been chosen to host a Stick Man trail, which have been created by Social Farms & Gardens, a charity that uses land-based activities to improve people's lives and the places where they live. Find out more about Social Farms & Gardens via www.farmgarden.org.uk
The Stick Man trail (installed thanks to the support of Magic Light Pictures) is based on the much-loved Stick Man picture book written by Julia Donaldson and illustrated by Axel Scheffler. In addition to these special activities, you can also follow the Stick Man trail, here at Martineau Gardens. The Stick Man trail is available as a free activity Monday to Saturday (expect Bank holidays and special events) – though donations are welcomed. Find out more here.