Organised by Birmingham & District Beekeepers Association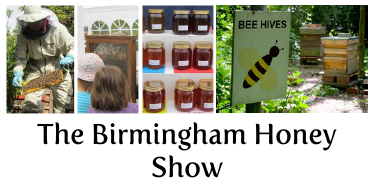 Birmingham Honey Show
Saturday 7 and Sunday 8 September, 2019, 10am – 4pm
Free Entry
Back for an ninth year, the Birmingham Honey Show is a chance to find out all about the fascinating craft of beekeeping, you'll be able to talk to local beekeepers, meet a queen (!), learn about the different types of bees, talk to beekeepers, think about becoming a beekeeper, view observation hives, see the competition entries, make candles from beeswax and buy locally produced honey direct from the beekeepers all in the settings of a beautiful organic community garden.
A netted live demonstration area will be set up in the woodland (weather permitting) and you'll be able to watch bee keepers working with bees and explaining how the bee hive works and what goes on inside.
A highlight of the show will be the prize-giving ceremony at 3pm on Sunday 8 September. Trophies will be  presented and prizes awarded for categories set to test the beekeepers' skills in a range of entries including honey production, comb extraction, mead making, honey cake baking and candle making.
Remember to bring cash (since there are no cash points at Martineau Gardens): there will be plant sales and refreshments available throughout the Birmingham Honey Show.
Exhibitors to be announced.
As you explore Martineau Gardens, look out for demonstration vegetable beds, an orchard, an earth oven, woodland, formal gardens, ponds, a hot house, a wildflower meadow,  a visitor room (located in our hundred year old pavilion), a children's 'shipwreck' play area and more.
Competition Entries:
Competition entries are welcomed from bee keepers, members and non-members. There is a modest entry fee and cash prizes.
Travelling to the Birmingham Honey Show:
The show takes place at Martineau Gardens, 27 Priory Road, Edgbaston, Birmingham, B5 7UG
Parking on site for this event, is reserved for disabled parking or drop-off and pick up only. Limited, free public car parking is at  the Priory Hospital with kind permission.  There is limited, free public car parking is at  the Priory Hospital, opposite Martineau Gardens,  with kind permission, please park at the rear of the car park and allow yourself 5 minutes to walk to the Gardens. There is a new pedestrian crossing at the bottom of Priory Road to access Martineau Gardens.
We recommend that you consider the green option and travel by public transport to the event. Martineau Gardens is well served by buses. The nearest bus routes are  Priory Road: 1;  Bristol Road:1A,  61, 63; Pershore Road: 45, 47 .  The 144 bus service operated by First Worcestershire will be of interest to our regional visitors: ( 144: BIRMINGHAM – BROMSGROVE – WORCESTER ( Salt Road )  Via Rubery, Catshill and Droitwch Spa).  To plan your journey by public transport, visit www.traveline.info and use the Martineau Gardens' postcode, B5 7UG.
Useful links:
   – link to HoneyShow 2019:
Interested in Beekeeping … can't wait for the show? Beekeeping courses at Martineau Gardens:
One-day beginners taster courses taking place in June and July – click here to find out how to book on.