---
Martineau Gardns will be closed on Saturday 26 November 2016 for maintenance work and will re-open on Monday.
---
A photo story of our day spent cooking in our outdoor kitchen, here at Martineau Gardens
---
The weather is looking wet for tomorrow, the first meet for our Winter Working Parties. With regret, tomorrow's session (on Saturday 12 November 2016) is cancelled. We are sorry for any disapointment caused.
Our next conservation working party will be Saturday 10 December – for more information about what's involved, visit this page.
Martineau Gardens will be open as usual for Visitors, from 10am until 4pm, admission is free.
---
Martineau Gardens nominated for Fields in Trust UK's Best Park Award
We're delighted to announce that Martineau Gardens has been nominated for the Fields in Trust UK's Best Park Award one of our supporters. Now we need public votes to win. Over the last few weeks 214 nominations have been received by Fields in Trust for parks and green spaces that are a much loved part of their local communities. Now it is time to choose the winners  -please do vote for us here:
http://www.fieldsintrust.org/bestpark/westmidlands
The deadline is Wednesday 9 November – winning this award would really help to raise awareness of Martineau Gardens, so please do press the button!
Martineau Gardens is a beautiful therapeutic community garden and a charity, located two miles from Birmingham City Centre. It's a green oasis teeming with wildlife and is looked after by volunteers, many of whom have mental health issues and learning disabilities. Hundreds of school children visit the Gardens to learn about science and environmental issues. Every year Birmingham people visit the gardens to explore its woodland, glass houses, formal garden, orchard, demonstration food growing areas, wildflower meadow, pond and wildlife area with SLINC status.
Across the UK nominations include large nature reserves and small community gardens, sports fields and playgrounds, each one a green space valued by the local community. Fields in Trust is a national charity that operates throughout the UK to safeguard recreational spaces and campaign for better statutory protection for all kinds of outdoor sites. Martineau Gardens  is one of 214 nominated parks across the UK. The park with the most votes in each of England, Wales, Scotland and Northern Ireland will be shortlisted and nominators will be invited to attend the prestigious Fields in Trust Awards at Lord's Cricket Ground in November where the UK's Best Park 2016 will be named.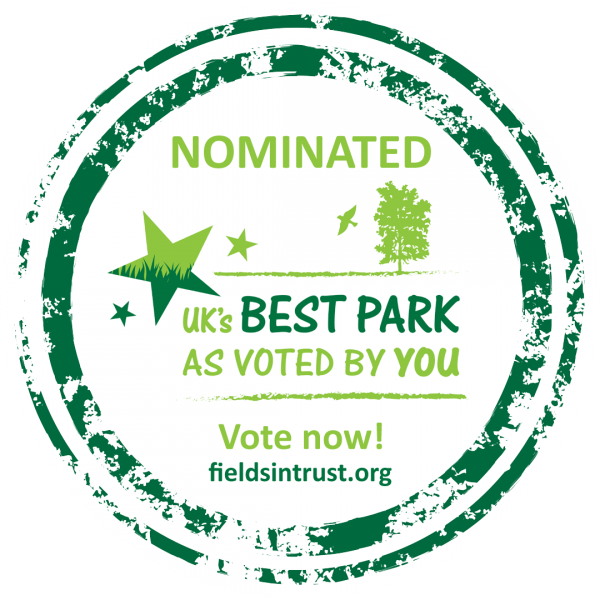 Fields in Trust Chief Executive Helen Griffiths said: "We want to celebrate the parks and green spaces which are so vital to the communities that use them. A good park is reflective of the community it serves, but, as they are not a statutory service for local councils to provide, these much loved places are increasingly under threat of being lost to development.
"Recognising the UK's Best Park is a way of revaluing our green spaces; not viewing them just as a drain on resources for maintenance and upkeep – but seeing what benefits they bring; access to good quality recreational space can contribute to the physical and mental health of their local population and provide places for people to get together for community events."
 Fields in Trust legally safeguards over 2,600 parks, playing fields, playgrounds, recreation grounds and other open spaces throughout the UK – a total of 12,000 hectares (30,000 acres).
Fields in Trust is a national charity that operates throughout the UK to safeguard recreational spaces and campaign for better statutory protection for all kinds of outdoor sites. Founded in 1925 as the National Playing Fields Association by King George V, the mission is the same now and as it was then: to ensure that everyone – young or old, able-bodied or disabled and wherever they live – should have access to free, local outdoor space for sport, play and recreation. These spaces are vital to building happy and healthy communities and sadly continue to be threatened by all kinds of development.  www.fieldsintrust.org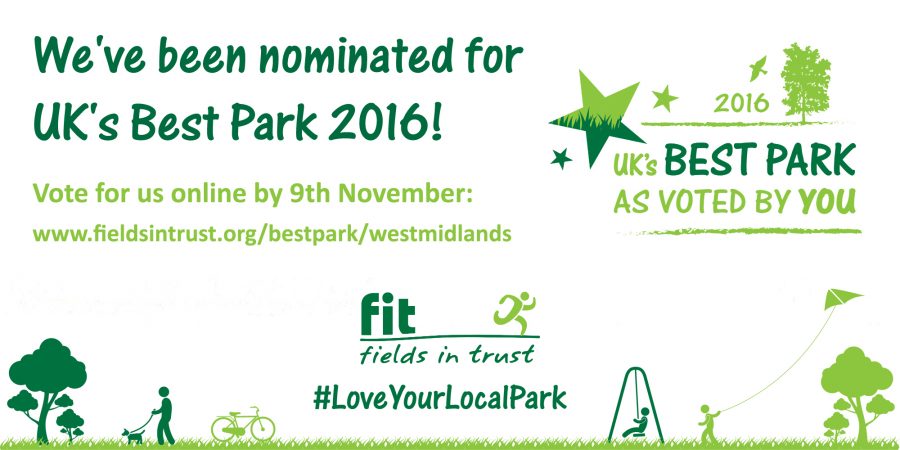 ---
We've got some great news! Martineau Gardens has been selected to receive funding from the Co-op Local Community Fund. It means that we will get a contribution towards the Therapeutic Horticulture Project. But we need your help. The more support we get, the more funding we could receive. So if you're a Co-op Member log in to your Co-op Membership account and choose us. If you're not a member, please join and support us!
Co-ops Local Community Fund – Giving back to local communities
By choosing to buy from Co-op, Co-up members are helping local causes on their doorstep through the Local Community Fund. Every time Co-up members buy selected Co-op branded products and services, 1% of their spend goes to a local cause.
Local stores
Co-op Edgbaston   Co-op Moseley  Co-op Jewellery Quarter
---
Stories on Halloween Night  Monday 31 October 6pm
Advance ticket purchase essential – click here (if you dare!)
Join us for our last event of the year. The Traditional Arts Team are returning to Martineau Gardens, with an eerie evening of spooky story telling:
"Dark nights.  A pale moon.  The wind rustling in the trees.  As the seasons shift, cracks appear between our world and the world of the spirits…"
Graham, from the Traditional Arts team explains more about the evening:
"The ancient Gaels believed that on October 31, the boundaries between the worlds of the living and the dead overlapped and the deceased would come back to life and cause havoc.  At our Halloween events storytellers from Storytellers Studio invite them to come along and join us for a story. But fear not, the storytellers will lead you safely amongst the dark and the dead with stories of ghosts, ghouls and gremlins."
If you're not full of fear, click here to find out more about the event!
Advance ticket purchase essential – previous Halloween events regularly sell out in advance.
---
Great  exercise that helps our wildlife!  Our Winter Working Parties have returned. This is a chance to work with others in the woodland at Martineau Gardens, on a range of conservation tasks.
Conservation work includes:
Coppicing trees and bushes
Digging out roots
Pruning hedges
Clearing  brambles, ivy etc
Stewart Holmes (Therapeutic Horticulturalist, Martineau Gardens) will be leading the sessions, Brian Perry will join him as the volunteer wildlife recorder. Read a report with more details and photos here:
The sessions run on the second Saturday each month 10.30am until 3.30pm, on the following dates:
2016: 12 November (cancelled due to wet weather), 10 December. 2017: 14 January, 11 February  and 11 March.   
 Please note:
1) If you can only do morning or afternoon—that's fine
2) In the event of severe weather, work parties will be cancelled
3) If you want to join us, there's no charge, but please book a place in advance at the Office or call us on 0121 440 7430. We will need your contact details in case the party gets cancelled.
---
Come and visit Martineau Gardens this weekend, Saturday 3 and Sunday 4 September for the return of the Birmingham Honey Show. Find out why honey bees need beekeepers to survive and why bees are important to the environment. Enjoy the crafts and produce associated with this traditional craft, all in the setting of a beautiful garden.
Organised by Birmingham & District Beekeepers Association, Saturday 3 and Sunday 4 September 2016, 10am until 4pm, Free entry.
Find out more here.
---
We've won a Green Flag Community Award, this is not the first  time, nor the second time, but actually our seventh time. Green Flags are awarded by the Keep Britain Tidy environmental charity in recognition of lots of important things that go on within parks and green spaces. Many of these tasks are going on behind the scenes, from managing our biodiversity, keeping wildlife records, welcoming visitors to washing up the cups and keeping our paths accessible. As always, this award is actually a tribute to all the volunteers to give up their spare time to help Martineau Gardens thrive. We couldn't do it with out you!
Here's a picture of staff and volunteers celebrating the good news by the new cut flower border – brimming over with cornflowers, clarkia and poppies. Also on display, seasonal produce including rhubarb and orange jam , courgettes, beans, onions and garlic.
---
Folksy Theatre returns to Martineau Gardens this Summer with two fabulous productions, 'The Smartest Giant in Town' and 'As You Like It'. Tickets for the Smartest Giant have already sold out, so advance booking for 'As You Like It' is recommended.
More details here

---