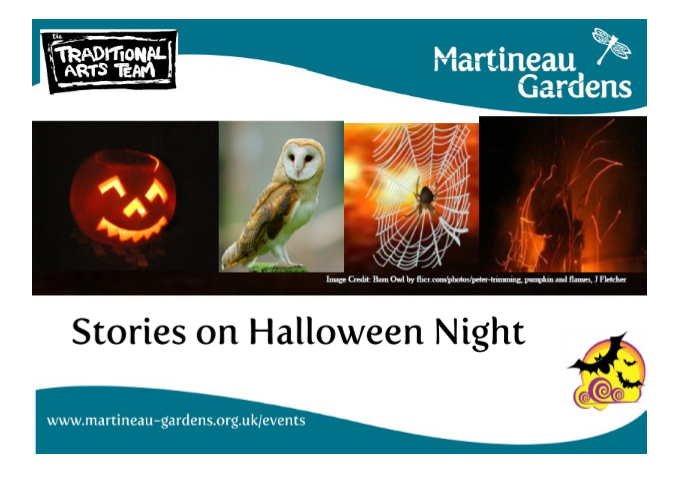 Tuesday 31 October 2017,     from 6pm – 9pm (timed tickets see below)
Tickets: £5 Adults, Children £2 *
Tonight is the night when witches ride.
With the Trad Arts Team and Martineau Gardens
Take a ghost walk around the Gardens as darkness falls. Stand in the shadows, the woods or beside the flickering fire and listen to tales of ghosts, spirits and fairy-folk. A rare opportunity to enjoy Martineau Gardens at night, in the company of storytellers from the Trad Arts Team.
Hot soup and light refreshments available or bring your own – drop into the outdoor kitchen to purchase food baked on the earth oven by Lizzy Bean.
After the walk and soup,  stories continue in the storytelling canopy.
Children welcome — if they dare!
Tickets
Adults £5, children £2*   Last year's event sold out so advance booking is recommended.
Tickets are now on sale. Buy in advance, on-line,  from www.wegottickets  – advance ticket sales end Tues 31 Oct 12noon, or until stocks last. Tickets on sale on the gate, subject to availability.
The early sessions are suitable for younger children but as the evening progresses the stories may become more graphic, choose your time with that in mind.
Select your time here and click to be re-directed to wegottickets.com :
When you buy from 'wegottickets' , you can pay by credit / debit card. You will receive a booking reference number (and a follow up email) but no ticket. There will be a 50p booking fee on the £5 tickets, 20p on the £2.
* Just to explain about the childrens' tickets: Children aged 16 years or under are £2, when accompanied by an adult. Unaccompanied children aged 13 to 16 years old need to purchase a full-price ticket at £5. Sorry, but children under 13 will not be admitted without an accompanying adult.
Adults = £5
Unaccompanied children aged 13 – 16 = £5
Accompanied children aged 16 and under  =£2
Getting to Stories on Halloween Night:
Martineau Gardens is at 27 Priory Road, Edgbaston, Birmingham B5 7UG
There is a small car park at the Gardens.  Public parking for the event will be at the Priory Hospital, opposite, by kind permission of the hospital. Please park at the rear of the Hospital (follow the signs) and allow yourself five minutes walk to get back to Martineau Gardens. We recommend that you consider the green option and travel by public transport to the event. Martineau Gardens is well served by buses. The nearest bus routes are  Priory Road: 1;  Bristol Road: X61, 63, ; Pershore Road: 45, 47 . To plan your journey by public transport, visit www.traveline.info and use the Martineau Gardens' postcode, B5 7UG.
Our other events in October are …
Come and have some autumn and halloween themed fun this October half term. Ideal for finding out more about the wildlife at Martineau Gardens with plenty of fun and play along the way, 2 hour sessions at various times. Click here for more details.