Sun 14 May, Spring Event, Martineau Gardens, 11am-3pm
Celebrating 20 years of Community Gardening
2017 sees us celebrating twenty years of community gardening. Martineau Gardens is one of the longest running Community Gardens in Birmingham. Join us at the Spring Event on Sunday 14 May, 11am – 3pm.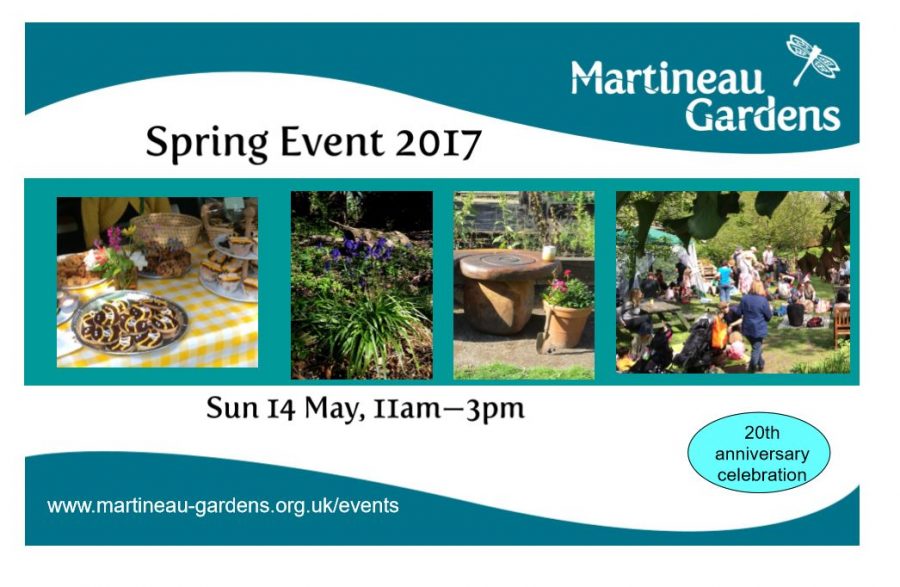 When the city council-run environmental centre closed in 1997, a group of local people came together to create a community garden that would stay open for free, for the public of Birmingham to visit and care for. Supporters included former staff, neighbours, Birmingham Friends of the Earth and members of the Martineau family.  Today our Martineau Gardens is a thriving independently run charity: volunteers (many of whom have mental health issues and learning disabilities) care for the Gardens, hundreds of school children come to learn about the environment and Birmingham people (now in their thousands) visit the Gardens annually.
You can find out more about our history here.
What's On:
Enjoy live music, delicious food and family friendly activities at our 'green' fete, a perfect opportunity for visiting the Gardens in the height of Spring. Wander around local stalls, find out about gardening, join in with wildlife related activities. The event will be a chance for you to stock up on spring herbaceous plants and compost, plus freshly cut vegetables. Children can playing around the 'shipwreck'.
Live Music:
11.30am Raggletaggle
12.30      Moseley Village Band
1pm        Drum Voice
1.30pm   Black Adder Morris
2pm        Ingrid's Accordions
2.30pm    South by South East
Activities and Stalls:
Juliette Green (our Education Officer) will be running pond-dipping activities in the woodland. There will be design your own garden decorations and a self-guided Spring Time at Martineau Gardens tour.
Miranda Kingston (Therapeutic Horticulturalist) will be in the Glass Houses running planting and sowing activities. You can view the wormery and find out how worms help is in the Gardens, with Lee Davies (our Apprentice).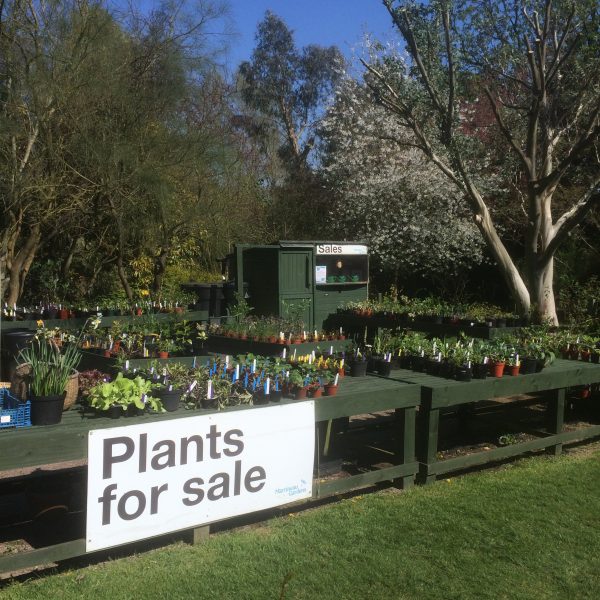 Up on the Tai Chi Lawn, stalls include Birmingham Friends of the Earth promoting their new air pollution and climate change campaigns as well as talking about the Bee Cause; Cuffufle Preserves with home made chutneys, jams, vinegars, mustards and cordials, Vegetropolis Organic Fruit and Veg, Gales Honey and Martineau Gardens plant and produce sales.
Artists include Robbie Hornby who will be demonstrating and selling her watercolours, paintings, book marks and notelets. Crafts people from the craft co-operative will be talking about their work and selling items.
Look out for Stone and Wood Carvers at work, who will be demonstrating and talking about these traditional crafts.
In the quiet, leafy area of the orchard, visit Qi Energy for massages.
The Honey Stall with its demonstration bee hive will show the importance of bees role in pollinating crops and gardeners will enjoy the opportunity to stock up on Martineau Gardens' Spring herbaceous plants and compost. Stewart Holmes (Therapeutic Horticulturalist) will be on hand to answer gardening questions and selling plants grown at the Gardens.  Freshly-cut vegetables will be for sale.
Visitors are welcome to bring their own picnics, but there will be delicious home-made cakes, salads and sandwiches and other refreshments on sale. The Gardens, though only two miles from Birmingham city centre, are a green oasis teeming with wildlife. There's plenty to enjoy, including woodland, glass houses, formal gardens, orchard, vegetable plots, wildflower meadow, a nature trail, a bird hide and more.
Getting to the Event:
There is a small car park at the Gardens, reserved for disabled parking.  Public parking for the event will be at the Priory Hospital, opposite, by kind permission of the hospital. Please park at the rear of the Hospital (follow the signs) and allow yourself five minutes walk to get back to Martineau Gardens.
We recommend that you consider the green option and travel by public transport to the event. Martineau Gardens is well served by buses. The nearest bus routes are  Priory Road: 1;  Bristol Road: 61, 63, X64 ; Pershore Road: 45, 47 . To plan your journey by public transport, visit www.traveline.info and use the Martineau Gardens' postcode, B5 7UG.
Admission:
£3 (non-members), £1(concessions), families £6 (maximum two adults) and free to Friends. 
Click here to become a Friend – or join up on the day.